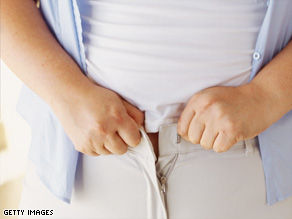 The dieting world screams with contradictory advice: Carbs are evil; carbs are good for you. "Good fat" is healthy; "good fat" has tons of calories.
Researchers at the Harvard School of Public Health and the Pennington Biomedical Research Center put four popular diets -- high carb, high fat, low-fat and high protein -- to the test to see which of the regimens resulted in more weight-loss success.
After two years of monitoring the participants, "all the diets were winners,
" said study co-author Dr. Frank Sacks, a professor of cardiovascular disease prevention at the Harvard School of Public Health. "All produced weight loss and improvements in lipids, reduction in insulin.
"The key really is that it's calories. It's not the content of fat or carbohydrates, it's just calories,
" said Sacks. The findings are published in the latest edition of the New England Journal of Medicine.
For the study, 811 overweight adults in Boston, Massachusetts, and Baton Rouge, Louisiana, were assigned to one of four diets.