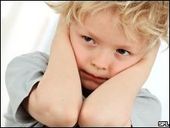 Children as young as two experience post-traumatic stress, research shows. A study on 114 younger children who had been exposed to road traffic accidents in the UK found one in 10 suffered continued anxiety after the event.
Although this is similar to the rate seen in adults, most go unrecognised and untreated, say the King's College London experts. Their work is published in the latest edition of the
American Journal of Psychiatry
.