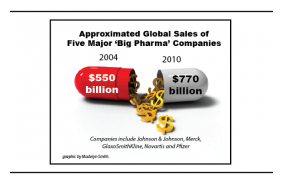 While Americans comprise only 5 percent of the world population, we consume an incredible 50 percent of Big Pharma's drugs, as explained in Jeff Hays' documentary film, Doctored. Make no mistake.
These drugs are meant to keep us
imprisoned in poor health
, not heal us.
It's time to kick the drug habit America.
Tell the drug pushers - Merck, Pfizer, Novartis, Roche, GlaxoSmith Kline, Abbott, Astra-Zeneca, Amgen, Eli Lilly, Bristol-Myers Squibb, and Sanofi (along with the FDA and CDC) that you are going cold turkey, and learn what true health really means.
Sadly, Americans are more familiar with names like Abilify, Nexium, Humira, Plavix, Crestor, Advair Diskus, Enbrel, and Cymbalta, the
top selling drugs
of Big Pharma, than names like
Aloe barbadensis, Curcuma longa, Allium sativum, Moringa oleifera, Vitis vinifera L,
all
indigenous plants
that have healed millions around the world.
You've likely heard the phrase before - just a dozen huge corporations are keeping Americans popping pills while they rake in billions, but have you really thought of what these numbers translate into, in terms of real health?
Annual sales for just one drug,
Humira
, was $9.3 billion. That puts Abott squarely at the top of the list as one of the most successful drug companies of all time.