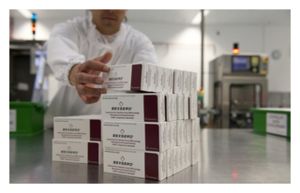 As I predicted after bird flu, the H1N1 scam and the recent 'outbreaks' last year, it was only a matter of time before the next media chimera was conjured up to market the next vaccine. So here it comes - serve it up:
Bexsero - our savior from meningitis.
Too bad the disease is practically nonexistent. Not that that's ever been an obstacle before...
By now we've all seen the stories about the 'outbreaks' of type B meningitis November 2013 at UC Santa Barbara and at Princeton: 4 cases and 8 cases. [1,2,4]
Remember, the CDC now defines an outbreak as 3 or more cases in the same location.[5] Cases of what, you might ask? Anything they can sell as a new disease.
In the last November's event, we have
4 cases and 8 cases respectively of bacterial meningitis B.
In a population of 300 million.
For the past decade, bacterial meningitis has been averaging between 500 - 1000 cases per year, according to CDC. [5] They don't cite sources for those figures. It's probably less. Thing is, it's been dropping.
So now the task was how to capitalize on all the press about the 12 meningitis cases at the 2 universities. CDC states that they have to respond - they have to 'do something' when there's this much media. [5]
Enter Bexsero vaccine. Let's get some basic non-Wiki, non Google facts straight:
1. Bexsero has never been tested or approved in the US.
2. It has been approved in the EU and Australia. The UK rejected it.
3. Bexsero was recently given Breakthrough Therapy Designation status by the FDA [3] in order to bypass normal clinical trials. Same way they did with swine flu in 2009.
Breakthrough Therapy designation? This is a new term FDA bureaucrats made up to allow an untested unlicensed vaccine to be used on a population, under the guise of urgency.