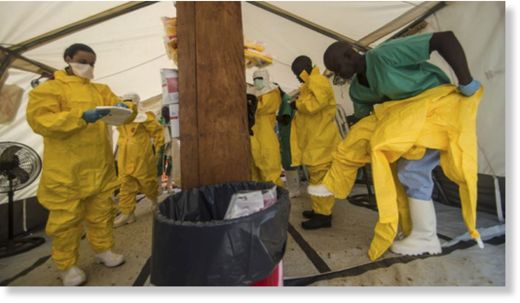 A doctor who just returned from treating Ebola patients in West Africa predicts the current Ebola outbreak will go on for more than a year, and will continue to spread unless a vaccine or other drugs that prevent or treat the disease are developed.
Dr. Daniel Lucey, an expert on viral outbreaks and an adjunct professor at Georgetown University Medical Center, recently spent three weeks in Sierra Leone, one of the countries affected by the Ebola outbreak. While there, Lucey evaluated and treated Ebola patients, and trained other doctors and nurses on how to use protective equipment.
The current Ebola outbreak, which is mainly in Guinea, Sierra Leone and Liberia, has so far killed at least 1,552 of the more than 3,000 people infected, making it the largest and deadliest Ebola outbreak in history. It is also the first outbreak to spread from rural areas to cities. Strategies that have worked in the past to stop Ebola outbreaks in rural areas may not, by themselves, be enough to halt this outbreak, Lucey said.
"I don't believe that our traditional methods of being able to control and stop outbreaks in rural areas ... is going to be effective in most of the cities,"
Lucey said yesterday (Sept. 3) in a discussion held at Georgetown University Law Center that was streamed online. While the World Health Organization has released a plan to stop Ebola transmission within six to nine months,
"I think that this outbreak is going to go on even longer than a year," Lucey said.