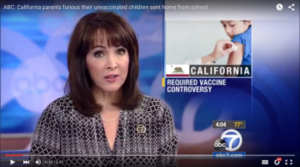 ABC reports that before Senate Bill 277 is even in effect, children are being sent home from school despite having vaccine exemptions on file.
Imagine sending off your little one for their first days of school only to have them humiliated and sent home because they're missing a vaccine. Even though Senate Bill 277 is not in effect and they have their proper exemptions on file.
That's what happened to parents across the state of California this past week.
Despite the fact the parents had filed the exemptions, the schools didn't have their records updated (shocker!) so 100 plus or so children were pulled from the schools.