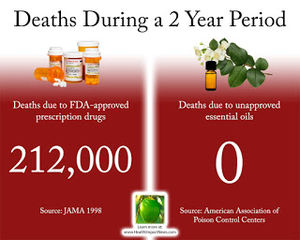 In September of 2014, the FDA began a coordinated attack on companies that market essential oils. The top brands are dōTERRA and Young Living. Both companies offer essential oils to help manage a variety of symptoms ranging from headaches to anxiety to hyperactivity.
Many essential oil users claim to have eliminated the need for over-the-counter medications due to using specific combinations of essential oils to target common maladies.
Back in 2014, Young Living received a warning that you can see on the FDA's website. It seems they had conducted a thorough search of the Internet, including websites, Facebook, Twitter, and Pinterest, and cited instances that Young Living essential oils were mentioned in conjunction with a medical diagnosis. For example, "Eucalyptus Blue essential oil has antiviral and anti-inflammatory properties." And, "Since I have become an avid Young Living essential oil user I have learned all about the anti-microbial properties of so many oils, including ANTI-VIRAL constituents in many of our essential oils."