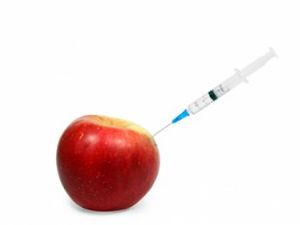 We hate to upset the biotech apple cart, but a pesticide-intensive GMO apple, produced through a possibly risky manipulation of RNA, doesn't deserve a place on our grocery shelves.
Thanks to the biotech industry's relentless quest to control our food, McDonald's, Burger King and even school cafeterias will soon be able to serve up apples that won't turn brown when they're sliced or bitten into. A new, almost entirely untested genetic modification technology, called
RNA
interference
, or double strand RNA (dsRNA), is responsible for this new food miracle. Scientists warn that this genetic manipulation poses health risks, as the manipulated RNA gets into our digestive systems and bloodstreams. The biotech industry claims otherwise.