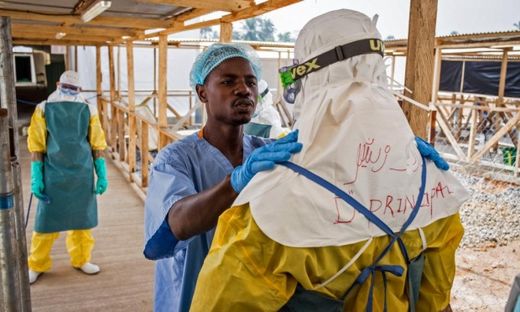 An American healthcare worker who contracted Ebola while fighting the outbreak in Sierra Leone will be brought to the US for treatment, the National Institutes of Health announced on Thursday.
The healthcare worker is due to arrive at the NIH facility in Bethesda, Maryland, on Friday. The patient, who has not been identified as male or female, was volunteering in an Ebola treatment unit in Sierra Leone.
News of the American's infection came hours after it was announced that the epidemic in west Africa had a grim milestone: more than

10,000 people

had died

from Ebola in Sierra Leone, Liberia and Guinea, according to numbers released by the World Health Organization. So far, more than

24,000 people in nine countries have been infected

.





Comment: And yet Hillary's email is all the major networks can talk about.




The countries have made significant gains in the fight against Ebola in recent months, with the overall number of new Ebola cases slowing significantly. Earlier this month, Liberia discharged its last Ebola patient. Just six months earlier, Liberia - which has recorded more than 9,000 cases of Ebola, including more than 4,000 deaths - was reporting 300 new cases a week.
Healthcare workers are at heightened risk of exposure because of their close contact with ill patients. Since the outbreak began in December, 840 health workers have tested positive for Ebola in west Africa; there have been 491 reported deaths.
The individual being flown to the US will be the second Ebola patient to receive treatment at the facility, specifically designed to provide high-level isolation capabilities and staffed by infectious diseases and critical care specialists. The first patient, Dallas nurse Nina Pham, was treated successfully.