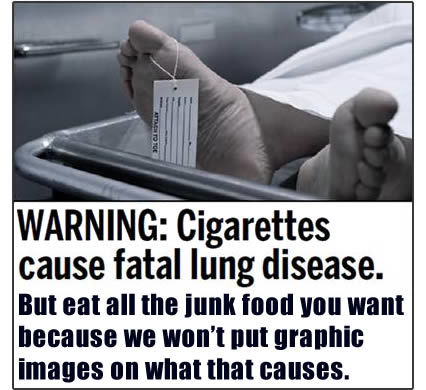 Is there a difference? Perhaps one of my readers can help me differentiate between one poison and the other. Whether you inhale it, drink it or eat it, a poison is a poison. I don't defend smoking, but there is a shameful double standard that exists at the expense of smokers and they know it. Why do government officials allow graphic images of disease on cigarette packages without extending the same courtesy to the labels on cosmetics, alcohol and junk food, some of which cause more disease and deaths annually than tobacco.
Marketing is acknowledged to be an important contributor to disease. It exists in numerous forms, the most recognized being television advertising. While there are efforts within policy to curb the incidence of marketing tactics which promote disease-promoting substances, those efforts appear to be quite biased.
It is very convenient that governments take such drastic measures to inform the public about the health risks associated with smoking and glance over more serious problems which are masked as casual threats to our health
.