New parents can be overwhelmed taking care of a ne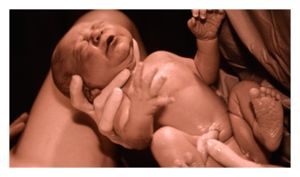 wborn, but one birth consultant thinks one way to help parents cope is by literally not cutting the cord.
Mary Ceallaigh, a birth consultant and doula from Austin, Texas, is preaching the benefits of "umbilical nonseverance" which involves letting the umbilical cord fall off naturally after birth.Ceallaigh, 47, says the practice is also called having a "lotus birth" can help mothers and babies bond.
"It is a trend getting more notice in western culture particularly among holistically inclined people," said Ceallaigh. "[It's] just as another way to create optimal beginnings for babies."
While the practice may seem like a new-age remedy gone haywire, Ceallaigh says the ritual actually comes from traditional Balinese practices. Parents care for the newborn, while also lugging around the baby's attached placenta.
"A lot of people they don't understand that the baby, the placenta, they're all made from the same cells," said Ceallaigh. "It's not some kind of waste material the body produces separately."
When the umbilical cord is not cut, it naturally seals off after about an hour after birth. The umbilical cord and attached placenta will fully detach from the baby anywhere from two to 10 days after the birth.