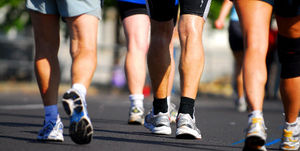 Four reasons walking has become America's 'untrendiest trend.' Hint: It's not just health
.
Walking is going places.
Humans' most common pastime - forsaken for decades as too slow and too much effort - is now recognized as a health breakthrough, an economic catalyst and a route to happiness.
Real Simple
magazine (circulation: 2 million) declared "walking America's untrendiest trend" in its February 2014 cover story. A month later
Builder
magazine (a construction trade journal) announced on its cover, "Walkability. Why we care...and why you should too." The reason? Simple: "Increasingly, the market is demanding places where homeowners can hoof it."
The New Yorker
weighed in last September quoting the new book
A Philosophy of Walking
, which asserts that walking "
makes it possible to recover the pure sensation of being, to rediscover the simple joy of existing.
"