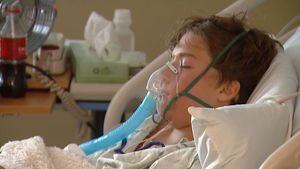 A mysterious outbreak of child paralysis cases previously linked to enterovirus D68 may instead have another cause, doctors at the University of Virginia Children's Hospital are cautioning after determining that a stricken child appeared to be suffering from a different virus.
A 6-year-old girl arrived at UVA Children's Hospital in October after her parents noticed that her right shoulder was drooping and that she was having difficulty using her right hand. She had previously exhibited cold-like symptoms, including a cough, a slight fever and headache.
The child's paralysis symptoms were similar to those seen in more than 100 other children during an outbreak of acute flaccid myelitis that began in the summer of 2014.
While enterovirus D68 has been the primary suspect in the paralysis cases, the girl's test results identified a different potential culprit, enterovirus C105. "Surprisingly, it came back with this enterovirus C105, which I'll admit, when it came back, I'd never heard of," said UVA's Ronald B. Turner, MD. "It was just described in the last eight or nine years and it hasn't been seen much around the world. Now, I think you have to be careful with that, because we don't look for it. And you don't see what you don't look for. So it's possible it's out there and it's not being detected because nobody's sending specimens to be tested in this way."