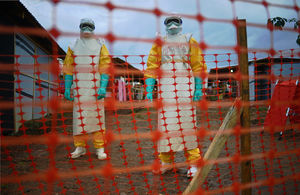 Sierra Leone said Friday that between 80 and 100 new cases of Ebola are being reported every day and the country now hardest-hit by the deadly virus desperately needs over 1,000 beds to treat victims.
Sierra Leone's Finance Minister Kaifalah Marah painted a grim picture to the U.N. Economic and Social Council Friday of the challenges facing his West African nation which failed to meet a
World Health Organization
interim goal of isolating 70 percent of Ebola patients and safely burying 70 percent of victims by Dec. 1.
The two other hard-hit countries, Liberia and Guinea, did meet the deadline, and the U.N.'s Ebola chief Dr. David Nabarro said the number of new cases in Liberia has dropped from 60 per day in September to 10 per day now.
But Nabarro and WHO Director-General Dr. Margaret Chan stressed that Ebola that a much greater effort is needed to reach the elusive goal of zero new cases.