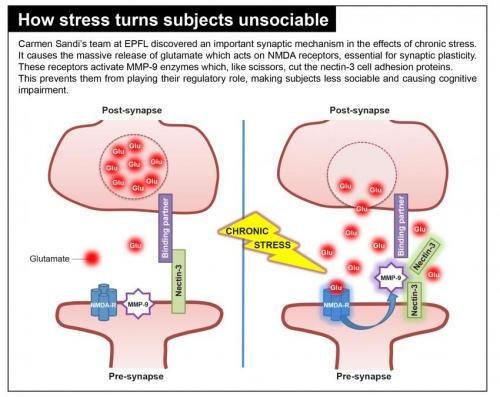 Why is it that when people are too stressed they are often grouchy, grumpy, nasty, distracted or forgetful? Researchers from the Brain Mind Institute (BMI) at EPFL have just highlighted a fundamental synaptic mechanism that explains the
relationship between chronic stress and the loss of social skills and cognitive impairment
. When triggered by stress, an enzyme attacks a synaptic regulatory molecule in the brain. This was revealed by a work published in
Nature Communications
.
Carmen Sandi's team went to look for answers in a region of the hippocampus known for its involvement in behavior and cognitive skills. In there, scientists were interested in a molecule, the nectin-3
cell adhesion protein
, whose role is to ensure adherence, at the synaptic level, between two neurons. Positioned in the postsynaptic part, these proteins bind to the molecules of the presynaptic portion, thus ensuring the synaptic function. However, the researchers found that on rat models affected by
chronic stress
, nectin-3 molecules were significantly reduced in number.