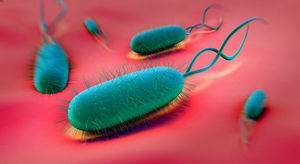 Discovered in 1982,
Helicobacter pylori
(
H. pylori
) is a disease-causing bacterium that survives in our stomachs despite the harsh acidic conditions. It is estimated that one in two people have got it, though most won't ever experience any problems. Even so,
it is considered one of the most common bacterial infections worldwide and a leading cause of dyspepsia, peptic ulceration and gastric cancer.
Through unique evolutionary adaptations,
H. pylori
is able to evade the antiseptic effect of our stomach acid by hiding within the thick acid-resistant layer of mucus that coats the stomach wall.
Once within the mucus layer, the bacterium latches onto sugars naturally found on the stomach wall using its adhesion proteins.
This attachment is so effective that the bacterium can resist attempts by the body to 'flush' it away, allowing the pathogen to colonise with impunity.
But the game could be up for
H. pylori
. Researchers in the School of Pharmacy, at The University of Nottingham and AstraZeneca R&D have identified the molecular mechanism that the bacterium's best-known adhesion protein uses to attach to stomach sugars. The research is published today, August 14 2015, in the scientific journal
Science Advance
s.