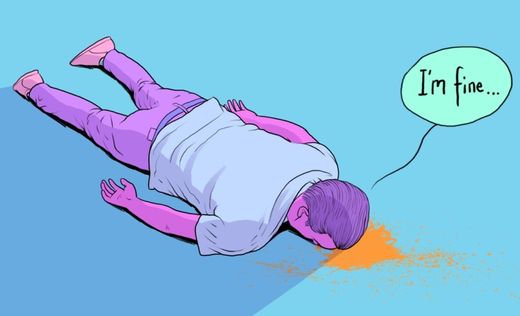 It's a hereditary condition - men raised by men unable to communicate emotionally, the symptoms of what we now know as PTSD becoming synonymous with masculinity. This is wildly fucked up when you stop to consider it.
A traumatic event in one's childhood is capable of inspiring exactly three things: shitty debut novels, self-absorbed blog posts, and dark jokes that make your friends feel weird around you. Case in point, the last conversation I had with my father, who'd been off work with the flu for a couple of weeks.
"How are you feeling, dad?" I asked.
"Better," he replied. Then he stood up and made his way to the bathroom to die.
A big part of me hopes that, vision fading and lips turning blue, my dad's final thought before submitting to the cold grip of extinction was a gleeful,
Haha, I got you, you little shit.
If that final word really was the last in his lifetime of unwavering sarcasm, it was - for my money - the single greatest burn I've ever heard.
Three weeks later, I celebrated my tenth birthday. A few months after that, I took home the title of "funniest pupil" in a classroom awards ceremony. Deflecting my grief into something that made others laugh felt much better than breaking down crying several times a day - which, in reality, was what I wanted (and probably) needed to do. People latch onto any kind of positivity after something so painful, and I guess I found validation in the laughter of my peers. Plus, let's face it, no one wants to be the kid constantly crying about their dead dad. That guy is always a total fucking buzzkill.
When the coroner was finished rooting around inside the vessel that had, for 51 years, housed my one-time Mensa member father (he was too tight to renew his subscription after the first year), a fatal heart attack was recorded, and off went dad to his fiery conclusion in the Loughborough crematorium. But the post-mortem also revealed significant scar tissue indicative of a previous attack sometime in the months or years previously. That was news to us all.
Apparently, near-fatal chest pains weren't something that he deemed worthy of professional consultation.
Classic dad!