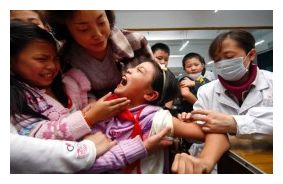 During the 2009 global influenza pandemic, millions upon millions were vaccinated for a so-called 'swine-flu', but a joint investigation by the
British Medical Journal
(
BMJ
) and the
Bureau of Investigative Journalism
(
BIJ
) has uncovered some serious conflicts of interest between the World Health Organization (WHO), who proposed such heavy vaccinations, and the pharmaceutical companies which created them.
The joint-investigation's report explains that the
WHO profited immensely
from the scare tactics they utilized to promote the use of a swine flu vaccine. Creating mass hytsteria was the WHO's emergency advisory committee's goal. The advisory panel was choked with individuals highly connected to the pharmaceutical companies with vested interests in both antiviral and influenza vaccines.
An over $4 billion stake was invested in developing these vaccines, and without a pandemic there would be no use for them. Utilizing propaganda and fear, the drugs were pushed on unsuspecting people, and the money was made.
A
German magazine
has in fact called the swine flu a total sham. The WHO told the world that up to 7 million people could die without the vaccines they were pushing. They are considered a trustworthy organization by many, so governments everywhere, including our own, helped to
push the swine flu 'remedy
.'