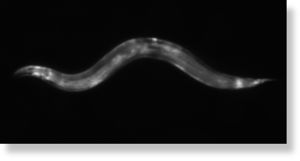 Long assumed to be destructive to tissues and cells, "free radicals" generated by the cell's mitochondria - the energy producing structures in the cell - are actually beneficial to healing wounds.
That's the conclusion of biologists at UC San Diego who discovered that "reactive oxygen species" - chemically reactive molecules containing oxygen, such as peroxides, commonly referred to as free radicals - are necessary for the proper healing of skin wounds in the laboratory roundworm
C. elegans.
In a paper published in the October 13 issue of the journal
Developmental Cell,
the researchers found that
free radicals generated in the mitochondria not only are necessary for skin wound healing, but that increased levels of reactive oxygen species, or ROS, can actually make wounds heal faster.