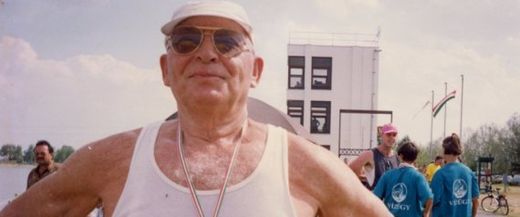 People have attributed their long lives to all sorts of lifestyle factors. For example, before her death in 2012,
Besse Cooper, 116,
said the secret to long life is "minding your own business and staying away from junk food."
But for
Emery Lang of Miami,
who will celebrate his 93rd birthday in May, the secret to a long and healthy life is, quite simply, rowing.
"This is the best exercise for anybody because your whole body is in motion... your legs and arms and shoulders," Lang told the Huffington Post. "If you do this exercise every day, your shoulders will be very powerful and straight up. You won't be bent over when you are in your 90s."
A champion, with many amateur rowing titles under his belt, one would think Lang's been rowing all his life. But, incredibly,
he didn't take up rowing until age 65.
"I had never done rowing on the water in my life. I am originally from Hungary and I had done a lot of other sports but not rowing," Lang said. "But then I visited Florence, Italy and I saw people rowing on the Arno [river]. It was the most beautiful sport I'd ever seen."