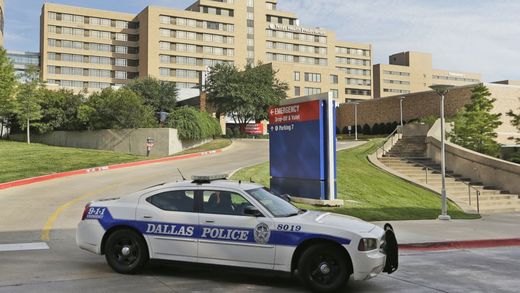 The country's top medical official who has vowed to stop
Ebola
"in its tracks" in the U.S., conceded today that it's "not impossible" that others will contract the disease.
Dr.
Tom Frieden
, director of the
Centers for Disease Control and Prevention
, said an extensive tracking process is underway in the wake of the first Ebola diagnosis in the United States, with special focus on the patient's family and health staff.
"We have a seven-person team in Dallas working with the local
health department
and the hospital, and we will be identifying everyone who may have come in contact with him and then monitoring them for 21 days," Frieden said.
The city of Dallas, which has activated its Emergency Operations Center on "Level 2: High Readiness," said, "We are currently evaluating 12-18 people that the patient confirmed to have the Ebola virus was in contact with."
In addition, the three ambulance crew members that brought the patient to the hospital were tested for Ebola. The tests were negative, but the crew members were sent home and will be monitored for the next three weeks, the city said in a statement.
Frieden believes the disease will be "stopped in its tracks" in this country.
The unidentified man's safety, along with the well-being of the medical people treating him, is a primary focus, Frieden said.