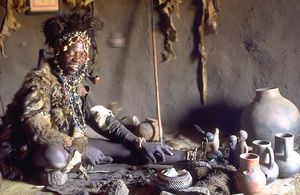 According to the World Health Organization (WHO), it has been estimated that
"about 80% of the population in developing countries depends on traditional medicine for their Primary Health Care
(PHC) needs." What is presently known as 'conventional medicine' has its origins in the West.
Though this is arguably the most prominent form of medicine today, it is not accessible to, or the first choice for, everyone. Therefore, many still rely on traditional medicine even today. Some forms of traditional medicine include: traditional Chinese medicine,
Ayurvedic
medicine (which has origins in ancient Indian society), and traditional African medicine. It is the last of these examples that this article will examine.
The Prevalence of Traditional African Medicine
In the continent of Africa, traditional (or ancestral) African medicine seems to be much more prevalent compared to conventional, Western medicine. In West Africa, for instance, it has been estimated that between 70-80% of the population rely on traditional medicine. Such figures, however, are not unique to that part of Africa alone, but may even be applied to the whole continent. In the countries of the WHO - African Region, it has been claimed that "60-80% of people rely on African traditional medicine for their primary health care."