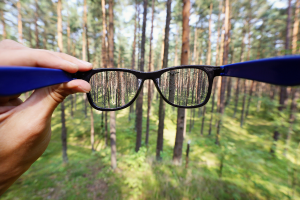 When I was growing up, I was always led to believe that needing glasses was just something that happened to people. You were simply born to be nearsighted or farsighted, and that was all there was to it. To some extent this idea is true. Scientists have found genes that can be linked to these visual ailments, which are widely known to be passed down in certain families; but does that tell the whole story?
When you really think about it, it doesn't make a whole lot of sense. Conditions like myopia are incredibly common. Everybody knows somebody who needs glasses or corrective surgery. So you have to ask yourself, if vision problems are mostly genetic, and they're so common in children all over the world, why didn't natural selection weed this trait out of the gene pool?
You have to imagine that not being able to see properly would be
so much
more hazardous for our ancestors than it is for us. How could hundreds of millions of people be suffering from a genetic disease that just a few centuries ago, would have nearly been a death sentence? Honestly, this totally defies our notions of evolution.