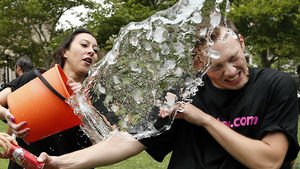 With $80,000,000 of your dollars raised, the ALS foundation openly admits only 27% of the funds go to ALS research, and sadly, virtually none of your donated money goes to already proven natural solutions.
You've probably already heard about '
pinkwashing' --
breast cancer awareness months'
most shameful cause-marketing campaign that paints pink anything from breast-cancer causing cow's milk products, buckets of Kentucky Fried Chicken and
synthetic perfume products
- anything to make a quick buck by triggering a consumer's charitable instincts.
Or, how about '
greenwashing
'? - the purposeful labeling of toxic chemicals with 'green' marketing copy, e.g.
Simple Green cleaner
,
making you think you are saving yourself and the planet from the chemical apocalypse, but, in fact, ensuring you and your family are on the fast-track to arriving there.
Well, if that weren't enough to create Orwellian cognitive dissonance in your life, now you can add '
icewashing
' to the mix, which
uses emotional triggers and promises of doing good to generate donations to 'find a cure' for ALS, but whose approach may be diametrically opposed to fulfilling its stated promise promise.