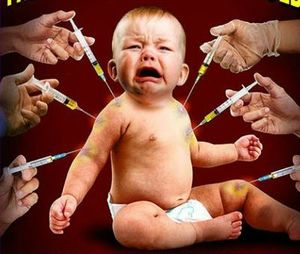 The average person realizes that shots hurt. There's a reason children scream and cry in anguish when they receive vaccinations. Apparently, this tidbit hasn't registered much among the medical community or else why would there be a need to widely publish EEG results of infants at the moment they get jabs? People tend to think babies will move on quickly and forget sooner....
Not only does the following study demonstrate the painful results of babies getting jabs, but is said to be the first time that recordings of brain activity have been conducted in response to real-life needle pain in infants.
It would seem like a study of this nature would have been performed eons ago, and on that note it is morbid that such a study is needed at all
. Perhaps it is a growing distaste for vaccines that prompts a study like this with the aim of supporting future painless vaccines or some type of pain relief at the time of inoculation.