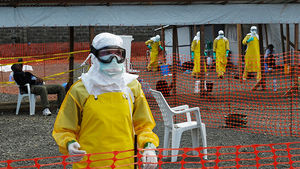 Sierra Leone announced it will implement a four-day "lockdown" across the country in an attempt to contain the spread of Ebola. The Friday move came as the World Health Organization stated that the virus has so far claimed over 2,000 lives in Africa.
Beginning September 18, the nation will prohibit residents from leaving their homes for four days, with the hopes that health officials will be able to detect early-stage cases, Ibrahim Ben Kargbo, a presidential advisor in Sierra Leone, told
Reuters.
"The aggressive approach is necessary to deal with the spread of Ebola once and for all," he said.
Unfortunately, the news was accompanied by worsening statistics from the World Health Organization (WHO), which announced on Friday that out of the roughly 4,000 people that have been confirmed to have the virus, 2,105 people have died in Guinea, Liberia, Sierra Leone, and Nigeria.