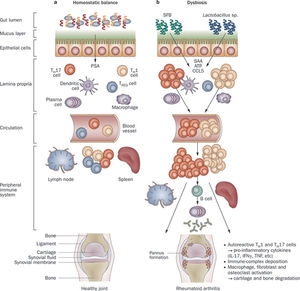 Did you know that the key to relieving the terrible pain of rheumatoid arthritis may lie...in your stomach?
Inside every single human on the planet - including you - there is a community of millions residing. It's called your
microbiome, and it's made up of millions of tiny bacteria that work to help keep your body functioning
. In fact, these little creatures are so abundant that they outnumber your cells by about 10 to one.
These bacteria largely live in your gut and serve a number of purposes that help your body function properly. We're getting to know the microbiome a little more, but for the most part, it is largely misunderstood.
But here's what I can tell you from what we know so far...
We know that
these bacteria are largely good bacteria and that they live comfortably and amicably. They help to break down food, absorb nutrients, expend energy, and remove waste. They also aid in combatting foreign intruders, so you stay healthy.
After all, there are even more bacteria living outside you - on every surface - that can make you sick. When one of these types of bacteria gets inside of you, your microbiome kills it. Your
microbiome plays a major role in your immune system, constantly providing protection from illness of which you're likely unaware.
Your microbiome is largely determined by genetics, but
it can be altered through diet and other lifestyle and environmental factors
. Therefore, it is in flux depending on how you live. When you eat poorly, smoke, get older, have a hormonal imbalance, or get infected, your microbiome changes. An imbalance is created, and this can cause a number of problems.
One of which may be rheumatoid arthritis.