It seems the level of corruption at the hands of politicians and power hungry investors is no different in Canada than anywhere else in the world.
Environment Canada has approved the commercial production of GM Atlantic salmon eggs which grow to market-size twice as fast as other farmed salmon. The biotech company responsible, Aquabounty, has revealed that it is no longer asking for approval to grow the fish in the US but plans to produce all of the GM salmon eggs in Canada and then sell "table-ready" GM salmon into the US consumer market. It is an alarming decision that sets Canada up to be the source of global environmental risk, says the Canadian Biotechnology Action Network.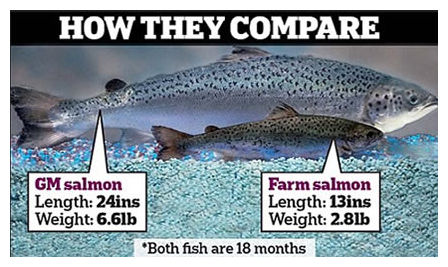 A U.S. company who has lobbied to commercially produce genetically modified salmon eggs in Canada says it has cleared a major hurdle in its proposal to make the fish available for human consumption, a possibility that has critics worried about the prospect of "frankenfish" escaping and endangering wild Atlantic salmon around the world.
The Environment Canada approval is the first government approval for the company AquaBounty. The company has asked for approval of the GM Atlantic salmon for human consumption in the U.S., based on a plan to produce the GM fish eggs in Prince Edward Island (PEI), Canada and ship them to Panama for grow-out and processing.
"We're devastated that Prince Edward Island is now officially the home of the Frankenfish," said Leo Broderick of the Prince Edward Island (PEI) group called Islanders Say No to Frankenfish, "We don't want our Island to be the source of this dangerous living pollution."