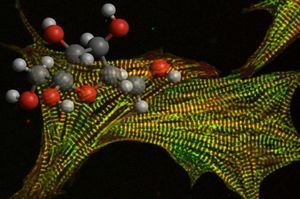 'Walk through any supermarket and take a look at the labels on food products, and you'll see that many of them contain fructose, often in the form of sucrose (table sugar)' -- that's how Wilhelm Krek, professor for cell biology at ETH Zurich's Institute for Molecular Health Sciences, summarises the problem with today's nutrition.
Prepared foods and soft drinks in particular, but even purportedly healthy fruit juices contain fructose as an artificial additive -- often in high quantities
. In recent decades fructose spread throughout the food market, due to a reputation as being less harmful than glucose. In contrast to glucose, fructose barely increases blood glucose levels and insulin secretion. This avoids frequently recurring insulin spikes after any glucose consumption, which are judged harmful. In addition, fructose is sweeter to the taste.
But there's a downside: the liver converts fructose very efficiently into fat. People who consume too much high-fructose food can in time become overweight and develop high blood pressure, dyslipidaemia with fatty liver and insulin resistance
-- symptoms that doctors group together under the name metabolic syndrome.