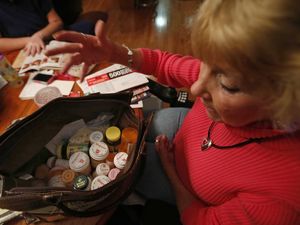 There may be a long trip to India in your future if you have hepatitis C. That's because the Indian Patent Office recently rejected Gilead Sciences' application for a patent on Sovaldi.You may remember Sovaldi, the nearly miraculous "cure" for hep C that was approved by the FDA a little more than a year ago. Gilead decided to market the drug at a nice round number —
$1,000 per pill
— and that decision has been controversial ever since.
A 12-week course of treatment runs about $84,000
.
Gilead offered to sell the drug in India for a whopping 99% discount, but apparently that wasn't enough. If an Indian generic drugmaker can replicate the treatment, says a study in the journal Clinical Infectious Diseases, a full course of treatment should cost about $136. A generic drugmaker in Bangladesh just days ago issued a copy of the drug it intends to sell in countries where Gilead has no patent protection.