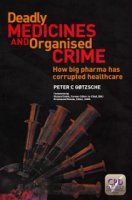 When a co-founder of evidence-based medicine's standard-bearer, the
Cochrane Collaboration
, describes the pharmaceutical industry as akin to the mafia, it's time to sit up and take notice. That's precisely what Dr Peter C Gøtzsche, who is also head of the
Nordic Cochrane Centre
, has done with
Deadly Medicines and Organised Crime: How big pharma has corrupted healthcare
. Read our exclusive interview with Dr Gøtzsche below to learn more about his findings.
Valuable opinions
Dr Gøtzsche's is the latest in a lengthening procession of books exposing the murky underbelly of the pharmaceutical industry. Most recently, we've had Ben Goldacre's
Bad Pharma
, along with other notable examples by
Marcia Angell
and
Richard Smith
, former editors of the
New England Journal of Medicine (NEJM)
and the
British Medical Journal (BMJ)
, respectively.
But this is the first time such a broadside has been launched by someone so intimately acquainted with the published medical literature. Dr Gøtzsche's
current tally
runs to forty meta-analyses and systematic reviews published in the Cochrane Database of Systematic Reviews alone: the fruits of many years' forensic examination of medical data. Dr Gøtzsche knows what he is talking about, and his opinions carry significant weight.