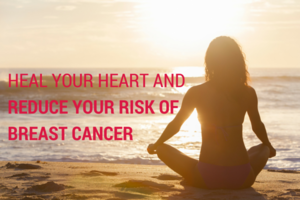 The mind-body connection is undeniable. Can healing your heart and your emotional wounds reduce your risk of breast cancer?
The average human heart beats 72 times per minute, transporting blood to deliver oxygen and nutrients through miles of arteries and veins. Western Medicine is acutely aware of the importance of this "physical pump" and its role in sustaining life. But is there a connection between the heart and breast cancer?
To truly understand the
importance of the heart
, you must go beyond the perception that the heart is merely a muscle.
It is also a source of
powerful electromagnetic fields that influence the body
and the brain.
In fact, some scientists are discovering that the heart rules the brain, not the other way around.