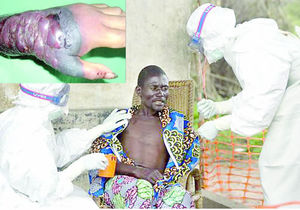 Countries across the world battle to contain the spreads of the Ebola Virus Disease (EVD), the
killer ailment appears to be devising means of circumventing efforts to stop it
, researchers have said.
Experts claim that the virus is "rapidly and continually mutating, making it harder to diagnose and treat."
This is just as former President Olusegun Obasanjo declared, on Saturday, that the index case, Patrick Sawyer, in a "devilish" connivance with some Liberian authorities, intentionally brought the disease to Nigeria.
He also noted that the disease, which he said had become a global problem, had been taking a toll on Nigeria's economy, charging the Federal Government to partner the World Health Organisation (WHO), European Union (EU) and government of America in containing the virus.
Sunday Tribune
's finding showed that result of a research by a team of American scientists
indicates that the initial patients diagnosed with the virus in Sierra Leone revealed almost 400 genetic modifications, concluding that this could render current treatment ineffective and put vaccines that are being worked on for its cure in danger.