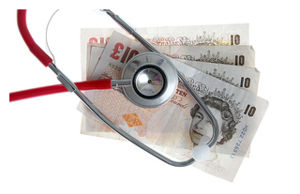 Family doctors will be paid £55 for every patient they diagnose with dementia under a new NHS England scheme which has been condemned as an "ethical travesty".
Leading GPs said the national project amounted to "cash for diagnoses" - allowing doctors to make a direct profit if they classify patients as suffering from dementia.
In some parts of the country, NHS authorities have gone still further - offering family doctors £200 for each new diagnosis made, The
Telegraph
can reveal.
Patients groups and doctors have condemned the schemes, saying they amounted to a "bounty on the head" of the most vulnerable, which could cloud the judgements of those making diagnoses.
Under the national scheme, doctors can receive the £55 payment for every extra patient given a diagnosis of dementia in the six months ending in March.
GPs qualify for payment if they diagnose the patients themselves - with no checks on whether their assessment is correct - or if they update their records when their patients receive a diagnosis in hospital.
Family doctors are already financially rewarded for carrying a host of medical checks, with a portion of their pay related to tasks such as taking blood pressure, measuring cholesterol and carrying out tests for conditions such as diabetes.
But the scheme is understood to be the first national initiative to offer doctors financial rewards for diagnosing patients with any condition.
It follows pledges by ministers to dramatically improve rates of dementia diagnosis.