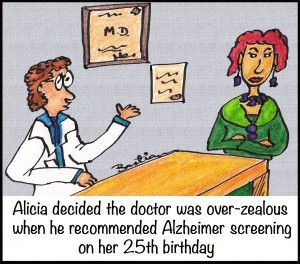 Have you been forgetful lately? Any difficulty concentrating? Trouble recalling names?
Answer "yes" to even one question like that, and there are some who want you to head to a
clinic for memory screening
.
And it's not because there is a good new treatment for dementia. If only there were. Therapy for dementia remains
a bleak landscape
. And while we have a sense of some risk factors that could be modified (like smoking), there's
nothing solid enough to be an early prevention strategy
, either. Nevertheless, people are taking lessons from the
cancer awareness-raising playbook
to encourage and prime us towards believing we can prevent Alzheimer disease, and accept early - even very early - detection.
It seems to me we're not prepared for this.
If we're diagnosed with Alzheimer's or any dementia, almost all of us would want to know it: somewhere around 90%, according to a
recent study
and
systematic review
. But that's not the same as wanting to be diagnosed early: there the numbers in favor drop steeply.
At the moment, the
odds are
that most of us won't ever have to cross that bridge ourselves. And as people get generally healthier, the chances of a person at average risk getting Alzheimer dementia could fall, too.
But a downside of early detection campaigns is a wave of false positives. They're only worth it when the benefits outweigh the inevitable harms.
Early detection is intuitively compelling when faced with a dreadful, progressive disease. Get in and do something before it's too late. But as I've discussed
here before
, hope can prevail over reason.