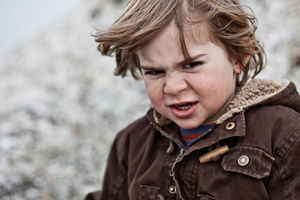 The next time your toddler acts adventurous, shy, fidgety or cuddly, you might be able to blame the bacteria in his gut.
Researchers from The Ohio State University studied microbes from the gastrointestinal tracts of children between the age of 18 and 27 months, and found that
the abundance and diversity of certain bacterial species appear to impact behavior, particularly among boys.
The correlation exists even after the scientists factored in history of breastfeeding, diet and the method of childbirth -- all of which are known to influence the type of microbes that populate a child's gut.
Study authors say they aren't looking for a way to help parents modify the 'terrible twos,' but for clues about how -- and where -- chronic illnesses like obesity, asthma, allergies and bowel disease start.
"There is substantial evidence that intestinal bacteria interact with stress hormones- the same hormones that have been implicated in chronic illnesses like obesity and asthma,"
said Lisa Christian, PhD, a researcher with Ohio State's Institute for Behavioral Medicine Research. "A toddler's temperament gives us a good idea of how they react to stress. This information combined with an analysis of their gut microbiome could ultimately help us identify opportunities to prevent chronic health issues earlier."