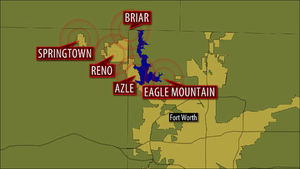 On Nov. 26, another earthquake jolted the small town in northwest Tarrant County. And on Friday, yet another one hit nearby. About 20 quakes rattled North Texas in November -- five of them in or near Azle.
The minor earthquakes haven't caused significant damage, but residents in Azle are getting nervous and seismologists are trying to get to the bottom of what's going on.
Some point to natural gas drilling that's happening in the Barnett Shale, a massive geological formation that covers about 20 North Texas counties. But a geophysicist with the National Earthquake Information Center says more testing is needed to make such a connection.