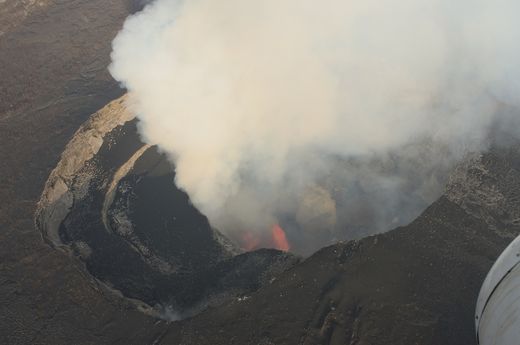 Heralded by fiery lava fountains and plumes of poisonous gas, a new lava lake has appeared atop one of Africa's most active volcanoes for the first time in 75 years.
The lava lake at Nyamuragira volcano in the Democratic Republic of the Congo (DR Congo) simmers deep within the summit's North Pit Crater. Though the churning lava seems to come and go, scientists think the volcano may eventually spawn a long-lived lava lake.
At the moment, "it's a very small, bubbling lava lake," said Benoit Smets, a volcanologist at the European Center for Geodynamics and Seismology in Luxembourg. "It disappears and reappears, but if the current activity continues, we will probably have a lava lake like we have at [neighboring volcano] Nyiragongo within a few years to decades."
Both Nyamuragira and the neighboring Nyiragongo are part of the Virunga volcanic chain in the East African Rift near Lake Kivu and DR Congo's border with Rwanda. The volcanoes are among the few on Earth that have sustained lava lakes for several decades. Nyamuragira's last molten pool emptied in 1938 in spectacular fashion, with lava pouring out of the summit and flowing more than 18 miles (30 kilometers) to Lake Kivu.
The new lava lake is at the bottom of a 1,650-foot-deep (500 meters) crater left behind by that flood.