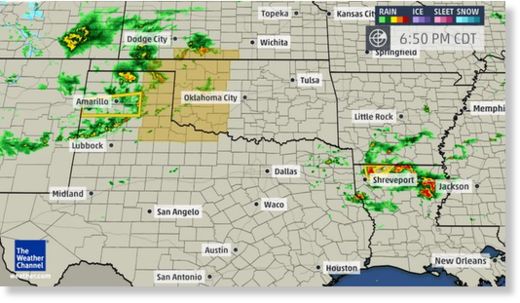 The severe weather outbreak is set to begin Sunday night, continuing through Monday and Tuesday as a deep dip in the jet stream swings from the Great Plains into the South.
In addition, the flash flood threat will be in play from this same system as locally heavy rainfall is wrung out over areas that have been soaked in past days.
Below, we have more details on severe weather and flash flood threats across the country. You can scroll down the page, or click on these links to jump to your area of interest.
The Weather Channel TV network will pre-empt regular programming nationwide to bring you continuing live weather coverage from midnight Sunday night (Monday morning) until at least 11 p.m. EDT Monday to cover this severe weather outbreak, along with
Tropical Storm Gonzalo
as it threatens the Caribbean. We will cut into programming at other times if conditions warrant.