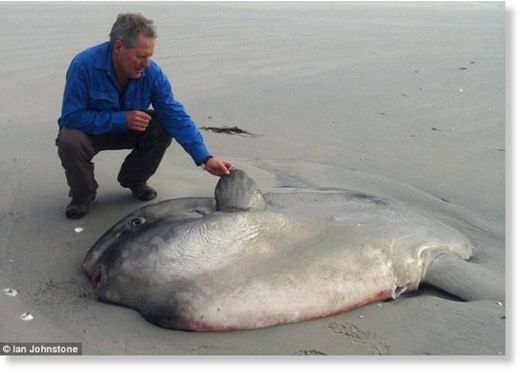 A rare 1000 kg ocean sunfish measuring nearly three meters has washed up on a remote beach on Maria island off the east coast of Tasmania.
When the rare fish, also known as a Mola Mola, is found, it's always in tropical waters, so when local Ian Johnstone spotted the fish on nature reserve Maria Island over the weekend, he'd never seen anything like it.
Mr Johnstone is the owner of Maria Island Walk, which is an upmarket four day guided walk.
'I suspect potential global warming issues and warmer water is to blame,' Mr Johnstone told
Daily Mail Australia
about how he believed the dead sunfish ended up there.
The sunfish is the heaviest bony fish species in the world, and its name stems from the fact that they more than often can be seen basking in the sun near the surface.