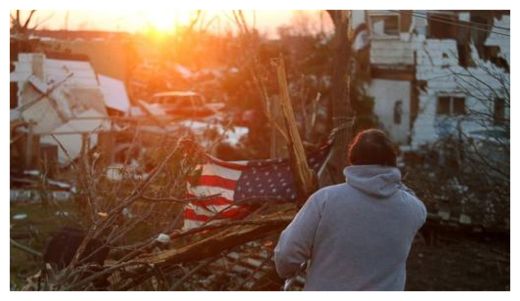 After one of the quietest U.S. tornado seasons in 40 years, Sunday was nature's comeback, with a total of 81 tornado reports in Illinois, Kentucky, Missouri, Indiana and Ohio.
Illinois was the hardest hit, with 43 tornadoes, followed by 23 in Indiana, 13 in Kentucky, one in Missouri and one in Ohio.
According to the National Weather Service's preliminary ratings, New Minden, Ill., in the southern part of the state, was in the swirl of an EF4 tornado, with winds of at least 166 mph. In Washington, Ill., the tornado, also an EF4, packed even more force, with winds from 170 to 190 mph.
According to the climatology of U.S. tornadoes in the Midwest, twisters of such force were unusual for this time of year. In the lower 48 states, the peak of severe weather and tornadoes usually occurs in April and May; November is known as the second peak for severe weather.