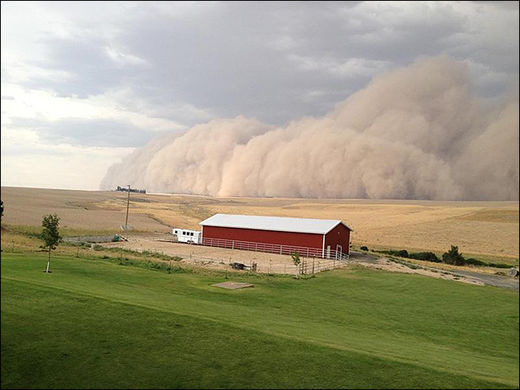 A massive, dramatic dust storm more often associated with the Southwest blew through Eastern Washington and north Idaho on Tuesday evening in advance of thunderstorms, lightning and rain.
Washington state troopers said the dust storm or "haboob" reduced visibility to zero in parts of Whitman and Adams counties, leading to numerous traffic accidents, especially in the Ritzville area southwest of Spokane.
Crashes in the wake of the dust cloud temporarily closed eastbound Interstate 90 west of Ritzville, the Spokesman-Review reported.
Avista Utilities said nearly 10,000 customers temporarily lost power in the Spokane and Palouse areas and in the Grangeville, Idaho, area.