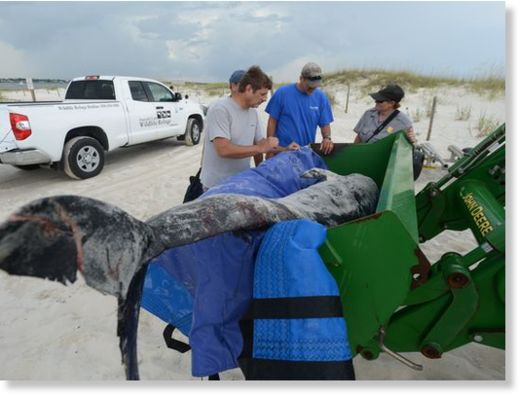 A melon-headed whale that died Tuesday on Perdido Key was sick, and NOAA scientists will try to determine if it died from the same illness being blamed on a mass die-off of dolphins.
The small melon-headed whale that died Tuesday after stranding on Gulf Islands National Seashore's Perdido Key beach showed clear signs of suffering from some type of illness, initial findings from a necropsy revealed.
Exactly what made it sick won't be known for weeks or months, after pathologist with the National Oceanic and Atmospheric Administration Fisheries Service analyze tissue, blood samples and other data collected by Steve Shippee, stranding coordinator for Emerald Coast Wildlife Refuge in Fort Walton Beach.
"Our dolphin, which we continue to believe is a melon-headed whale (Peponocephala electra), most likely had a chronic illness that should be detectable by pathology and lab analysis," he said. "On gross necropsy exam, we are able to describe lesions and injuries that an animal sustained, but the findings of the tissue analysis will take a while to be returned. Sadly, the animal was in the prime of life as a mature breeding age member of his species."