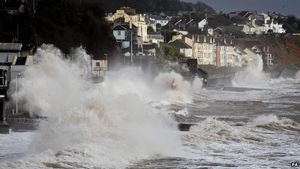 The winter storms that battered much of the UK's coastline have also stopped fishermen heading out to sea to bring in their next catch. Now many families are facing financial hardship and wondering where their next pay day will come from.
As the wife of a shell fisherman, Sarah Bentley-Jones is used to a winter lull in her family's earnings.
Her husband Ian, 37, fishes out of Keyhaven, close to their home in Milford-on-Sea, Hampshire, but extreme weather has meant he has hardly spent any time at sea for months.