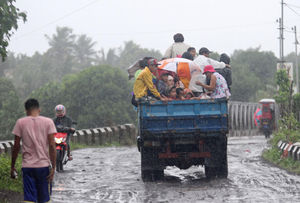 Tens of thousands of people in the Philippines hunkered down in evacuation centres while three people were reported missing Tuesday as a typhoon pounded its eastern coast amid warnings of giant storm surges and heavy floods.
The eye of Typhoon Rammasun struck Legazpi city in the eastern Bicol region in the early evening, with Manila and other heavily populated regions expecting to be hit on Wednesday afternoon, the state weather service said.
"Roofing sheets are flying off the tops of houses here... the wind is whistling," Joey Salceda, the governor of Albay province in Bicol said over ABS-CBN television.
He said there had been no reports of deaths while damage to the region -- an impoverished farming and fishing region of 5.4 million people -- was expected to be "moderate".
However, Bicol police said three local men were listed as missing off the island of Catanduanes on Tuesday, a day after they pushed out to sea to fish and failed to return.
The Philippines is hit by about 20 major storms a year, many of them deadly. The Southeast Asian archipelago is often the first major landmass to be struck after storm build above the warm Pacific Ocean waters.