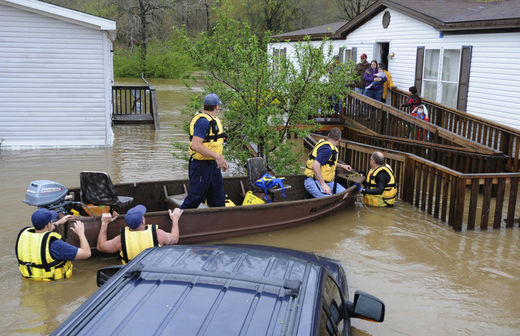 Severe thunderstorms dumped heavy rains across the Southeast on Monday and caused flash flooding in central Alabama, where crews in small boats and military trucks had to rescue dozens of people from their homes and cars.
In Mississippi, a 9-year-old girl was swept away and killed after the storms dropped nearly 7 inches of rain there over the last two days. A possible tornado in another part of the state damaged homes and hurt seven people, and a motorist in metro Atlanta was found dead after driving into a creek swollen with rainwater.
Strong winds downed trees, power lines and snarled rush hour commutes. National Weather Service forecasters in North Carolina say video indicates a tornado touched down near the town of Belhaven in the eastern part of the state. Authorities say a pickup truck was lifted off the highway, injuring a man and his son.