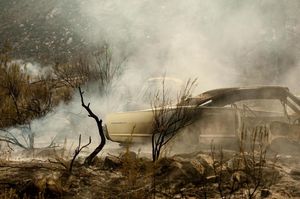 A massive wildfire that has forced the evacuation of towns, destroyed numerous homes and blackened scenic hillsides in north-central Washington has been burning into new areas, fueled by dry conditions and gusty winds.
The lightning-caused fire by Saturday had scorched nearly 340 square miles in the scenic Methow Valley. The fire was measured at 260 square miles Friday.
Road closures and evacuations were changing regularly, as hot weather and winds with gusts up to 30 mph were pushing the fire over ridge tops and toward a cluster of small towns northeast of Seattle.
"This is a very active and fluid situation," fire spokesman Chuck Turey said.
People living between Carlton and Pateros have been told to leave their homes. The fire has downed power lines and many towns were without electrical power or phone service Saturday.
There were no reports of serious injuries. Minor burns and bruises had been reported, but Turey called that "a pretty amazing safety record."
On Saturday, officials said that only one more structure was destroyed overnight by the blaze.