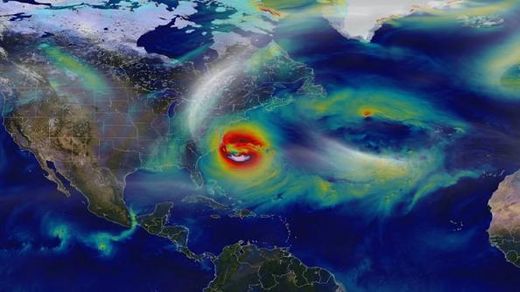 Excellent Science Word of the Day: "Paleotempestology."
It's the study of prehistoric storms. The word pops up near the end of the new paper in
Nature
describing "Grey swan tropical cyclones" (Nature
,
as always, favors the British spelling of "gray"). My colleague
Chris Mooney describes this new research on the E&E blog
.
The paper has some jaw-dropping calculations, most notably that it is not inconceivable that in the hotter climate at the end of this century, a mega-storm could ride up along the shallow waters of Florida's Gulf Coast, take a sharp turn into Tampa Bay and (boosted by something called "Kelvin Waves"*) produce as much as a 36-foot storm surge at the head of the bay.
That would be, to say the least, a sub-optimal situation. Put it in 72-point type: Megastorm Threatens Bern's Steak House.
Of course, such a Tampa-blasting mega-storm isn't likely to happen. Nor is it likely that a monster storm will careen into the Persian Gulf and clobber Dubai -- another scenario entertained by the authors of the new paper. They are using computer models and the historical record to try to get an estimate of how frequently three vulnerable cities (the third is Cairns, Australia) could be hit by anomalously huge storms in the coming decades. These are places where the geography and bathymetry (lots of shallow water in particular) could amplify the devastation. In the case of Tampa, the authors can envision a low-probability, high-consequence event in which the bay essentially dumps its contents on the city and surrounding areas like a tipping bathtub.