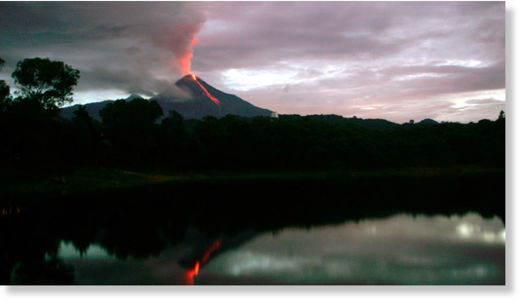 Volcanic ash leapt into the sky in a column three miles high on Friday, as Mexico's Colima volcano began erupting.
Located in the western region of the country on the border of the states of Jalisco and Colima, the 12,500 high volcano is less than 500 miles from Mexico City. One of the most active volcanoes in the country - and one of the most potentially destructive ones as well - Colima has certainly earned its nickname of the "Volcano of Fire" from locals.
The country's federal civil defense office said that
ash has been raining down as far as 15 miles from the volcano
. Super-heated glowing volcanic rocks were reported to be raining down the sides of the volcano over a mile from the now-erupting caldera. So far there have been no injuries reported by Colima's most current eruption, as officials say that this new one seems to be much less in intensity than other instances. The last major eruption of Colima,
which occurred in 2005,
saw local residents evacuating from the region.