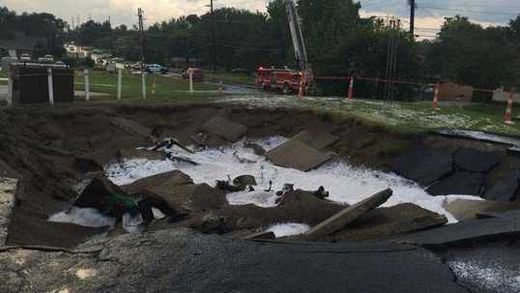 FAIRFIELD, Ohio —A giant crater was left behind after a lightning strike Monday evening caused an explosion of an underground fuel storage tank near Dixie Highway.
Police said told
WLWT
that lightning struck and ignited a 10,000 gallon underground fuel storage tank at the Gas Depot at 4871 Dixie Highway.
The blast left behind a crater 40 feet in diameter by 8 feet deep. Firefighters said there were two customers at the station when the bolt hit, but luckily no one was pumping gas at the time.
"Very loud! Like I said, the concussion when I was sitting there, it threw me back and I looked up and saw as soon as it came up there was an instant puff of black smoke that came up and I knew it was close," said Roger Tucker, who watched from his porch about a half a mile away.
Even seasoned firefighters were wowed after they say lightning hit the fill dome of a 10,000 gallon underground diesel fuel tank at Fairfield's Gas Depot.
"I can tell you in my 45 year career, I have never seen anything like this. Underground storage tanks are put there to reduce the potential for fire,"
said Fairfield Fire Chief Donald Bennett.