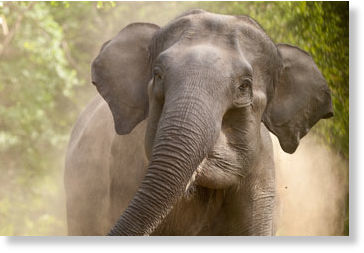 A rampaging wild elephant has trampled four persons to death and seriously injured three others in Sitamarhi district.
Four persons-Md. Nizamuddin, 50, a resident of village Siswa, Bhola Rai (30) of village Indarwa, Chhattar Rai (37) of village Adhakhanni under Parihar police station and homeguard-cum-driver of Bajpatti police station in Sitamarhi district Hulas Rai (30) were trampled to death by a Nepalese elephant on Tuesday.
Two injured women-Lalita Devi and Sonam Kumari, are being treated at different hospitals. The police driver was trying to help villagers chase the pachyderm away from the agricultural fields.
Sitamarhi SP Hari Prasath S said on Wednesday, "Two persons have been crushed to death in Bajpatti and Parihar police station areas of the district. We have got reports that other person injured by the elephant has died. We are trying to confirm the identity of the person."