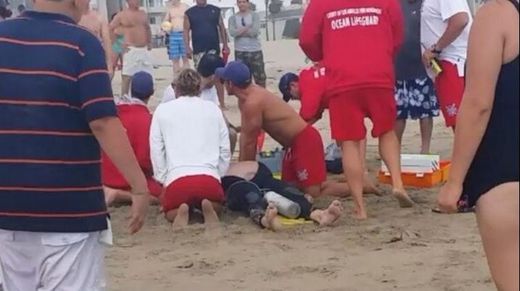 A 20-year-old man died Sunday after lightning struck or rattled 13 people at a popular Los Angeles beach and a golfer on Catalina Island during summer thunderstorms that swept through Southern California, authorities said.
The man was taken from Venice Beach and pronounced dead at a hospital Sunday afternoon, Los Angeles County coroner's Lt. Larry Dietz said. His identity was not immediately released.
Confirmation of the cause of death was pending an autopsy. Dietz said he can't confirm whether the man was a swimmer who was pulled from the water and given CPR.
Twelve other people, including a 15-year-old boy, were examined after the strike on the beach, in the water and on the famed Venice Beach boardwalk. Los Angeles fire spokeswoman Katherine Main said they had effects ranging from anxiety to needing CPR, although not all may actually have been struck. Nine went to hospitals.
Steve Christensen said his friend had been body-surfing and was sitting on the beach when lifeguards began searching for a missing swimmer.
"He (Christensen's friend) went out to the water to find him and walked right into him," Christensen said. "He was face down on the bottom."
Christensen said his friend pulled the man, who appeared to be in his 20s, from the water, and lifeguards began CPR before taking him away on a truck.