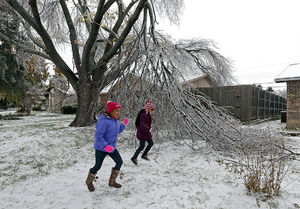 After a significant winter storm dumped a mixture of snow and ice across the country's midsection, another gruesome storm is moving east and meteorologist say the Eastern Seaboard should prepare for the kind of conditions that paralyzed cities in Texas, Oklahoma, Tennessee, Arkansas and Missouri.
The Associated Press reports that in California, four people were killed because of the cold and the NBC affiliate in Dallas reports that .
NPR member station KERA
says
"North Texas is practically a skating rink."
The weather caused cancellations of flights and the Dallas Marathon. Temperatures, reports KERA, are expected to dip into the teens.
The Associated Press
adds
:
"Meanwhile, around 7 inches of snow fell in northeast Arkansas and the Missouri boot heel, according to the National Weather Service in Memphis. Ice accumulated on trees and power lines in Memphis and the rest of West Tennessee after layers of sleet fell throughout the region Friday.

"The storm dumped a foot of snow and more in some areas of Illinois, with police scrambling to respond to dozens of accidents and forced scores of schools to remain closed."
As for what's to come, the National Weather Service has issued winter storm warnings and watches for parts of Ohio, North Carolina, Virginia and Maryland.