A powerful storm that crept across the country dropped snow, freezing rain and sleet on the Mid-Atlantic region and headed northeast Sunday, turning NFL playing fields in Pennsylvania into winter wonderlands, dumping a foot of snow in Delaware and threatening a messy Monday commute in the northeast corridor.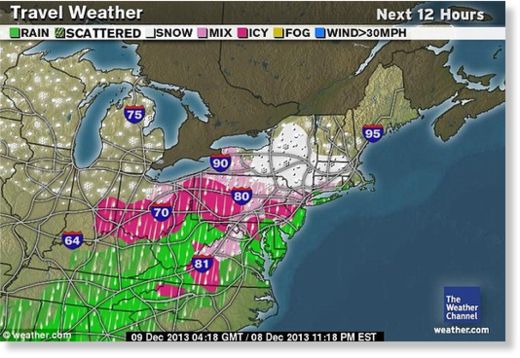 The storm forced the cancellation of thousands of flights across the U.S. and slowed traffic on roads, leading to a number of accidents, including a fatal crash on the Pennsylvania Turnpike near Morgantown that led to a series of fender-benders involving 50 cars that stranded some motorists for up to seven hours. More than two dozen vehicles were involved in another series of crashes on nearby Interstate 78.
What was forecast in the Philadelphia area to be a tame storm system with about an inch of snow gradually changing over to rain mushroomed into a full-blown snowstorm that snarled mid-afternoon traffic along Interstate 95 in Pennsylvania from the Delaware to New Jersey state lines.
Additional images