The volcano erupted earlier this month, triggering evacuations of thousands of people, including tourists
Residents in Pucon, a resort town near the volcano, were fearful that clouds of smoke could signal another eruption was on its way
The March eruption was Villarrica's first major eruption since 1984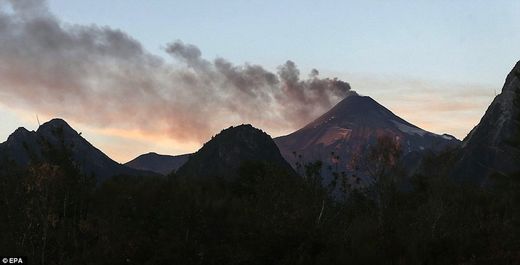 A steady stream of smoke and ash leaking from the Villarrica volcano has residents of a nearby town wondering if - or when - disaster might strike.
Chilean officials raised threat levels to orange on Wednesday due to increasing signs of activity in the 2840-meter tall volcano, leaving area residents fearful of an eruption.
'No one can sleep peacefully because the other day the eruption surprised us at 3 in the morning,' said Francisco Valenzuela, a tour guide in the nearby resort town of Pucon.
'The tourists are also a little uncertain,' Valenzuela said. 'Could something happen today? Could something happen tomorrow?'
The
BBC
reports that local authorities canceled classes for the more than 5,500 students in the area.
Many of the residents in towns and communities surrounding the volcano had to be evacuated earlier in the month, when lava and smoke erupted from the peak in the early hours of the morning.
'It was spewing lava and ash hundreds of meters into the air,' 29-year-old Australian tourist Travis Armstrong said. 'Lightning was striking down at the volcano from the ash cloud that formed from the eruption.'