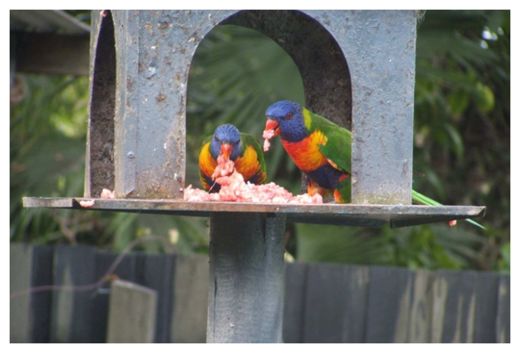 The behaviour of a population of rainbow lorikeets who frequent a backyard feeding station on a property north of Brisbane has left bird experts baffled.
The lorikeets are eating meat
and Griffith University's Professor Darryl Jones is shocked.
Professor Jones, who is researching the impact of backyard feeding on bird populations, said
lorikeets usually eat nectar and pollen which they obtain from native plants and shrubs.
"I have researched what birds feed on all around the world," Professor Jones said.
"I'm up to date with all the kinds of crazy things that birds are eating all over Australia.
"To see a lorikeet eating meat astonishes me completely. I have never heard of such a thing before."
For years, Bill, who owns the Elimbah property, has put out pets mince for magpies, currawongs and kookaburras. He also puts out seed for vegetarian birds like galahs, king parrots and the lorikeets.
He feeds about a dozen birds each day and knows they are spoilt for choice when it comes to food. Bill's property is home to native trees and shrubs, and there is untouched forest nearby. He is happy to offer a few scoops of mince and seed to the birds that come in for a free feed.
It was about seven years ago when Bill first noticed the lorikeets eating meat, and they have been eating it ever since.
"At first they went for the seed but then they started chasing the other birds away from the meat, which surprised me," he said.