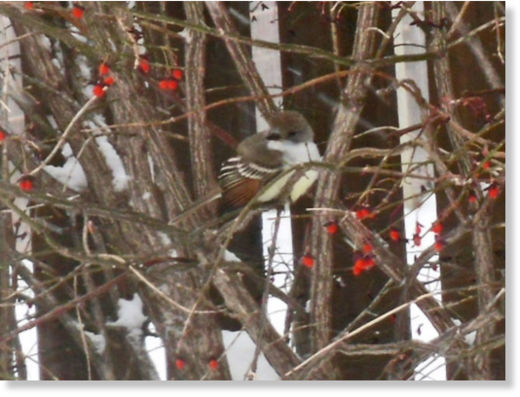 If you were a bird, you may want to consider flying south in October and not returning to our area until next May. Many human snowbirds do just that. Many birds migrate south to warmer climates for winter, then return in the spring, but some seed-eating birds tough out the winter with us.
There is a family of birds called flycatchers that survives by hawking flying insects out of the air in mid-flight. There are not many insects flying around in winter, so a flycatcher that tried to overwinter instead of migrate would have little chance of survival.
Flycatchers mainly eat insects and other invertebrates, but also fruit.
One of the largest and most common species of flycatcher that nests in our area in summer is the great-crested flycatcher. It is a member of the Myiarchus genus and the second-largest flycatcher in our area, slightly smaller than the eastern kingbird. Great-crested flycatchers leave our area in late summer and early fall to fly south to southern Central America or northern South America.
There are few records of this species staying around in late fall or winter in our area.