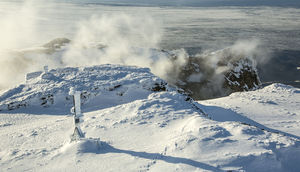 A small lava-erupti­on has been detected und­er the Dyngju­jök­ull glacier.
Dyngju­jök­ull is a part Vatna­jök­ull, not far from Bárðarbunga.
The Icelandic Co­ast Guard airpla­ne TF-SIF is flying over the area with representati­ves from the Civil Protecti­on and experts from the Icelandic Met Offic and the Institu­te of Earth Sciences. Data from the equip­ment on bo­ard is expected later today.
Data from radars and webca­meras are being recei­ved, show­ing no signs of changes at the surface.
The estima­te is that 150-400 meters of ice is abo­ve the area.
The aviati­on col­or code for the Bárðarbunga volcano has been changed from orange to red.