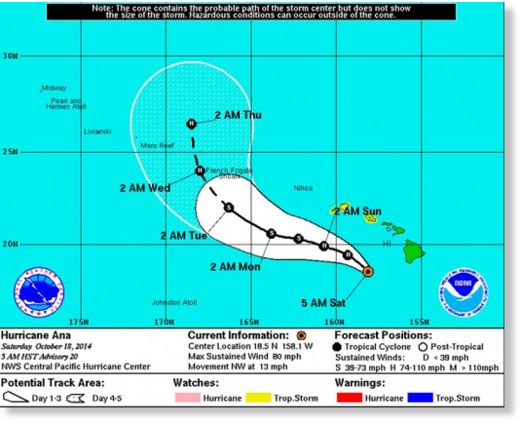 Flash Flood Warning
The National Weather Service in Honolulu has issued a Flash Flood Warning for the Big Island until 12 noon Saturday (Oct 18). At 9 a.m. rain gages at Kulani Cone above Glenwood showed heavy rain falling at two inches per hour. This area of heavy rain was nearly stationary. The heavy rains will continue to stream into the Ka'u and Puna districts over the next two to three hours.
The Hawaii Police Department reports that Highway 11 between the 57 and 58 mile marks between Pahala and Naalehu is closed to all traffic due to flooding. Motorists are advised to avoid the area and to use alternate routes if possible.
Campers and hikers should avoid low lying flood prone areas. People should stay away from streams, drainage ditches and low lying areas prone to flooding. The rainfall and runoff will cause hazardous driving conditions due to ponding, reduced visibility and poor braking action.