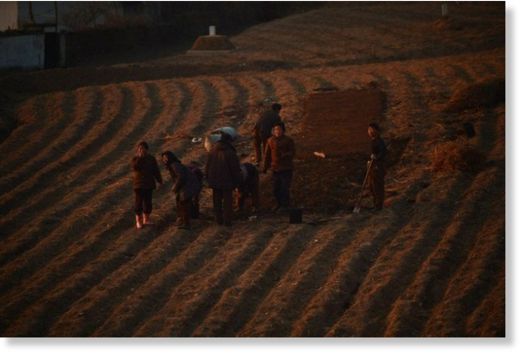 Eleven people—most of them women—were killed and around 30 injured in North Korea when earth they were plowing collapsed beneath them, according to a source inside the country.
The workers had been mobilized to plow at the October 18 Jonghap Farm in Yanggang province, along the border with China, on Feb. 3 as part of an annual bid by the Kim Jong Un regime to improve acidic soil for farming, an area resident told RFA's Korean Service on condition of anonymity.
Due to low temperatures during the winter, much of the earth had been turned to ice, and the workers—from the Baek-du Youth Team, and the Baek-am Tile Works and Rural Construction Unit—had been ordered to dig until they found unfrozen soil, the source said.
However, a sinkhole had developed beneath the ice and when the workers pierced through the frozen layer of soil, the ground collapsed, burying them alive, according to the source.