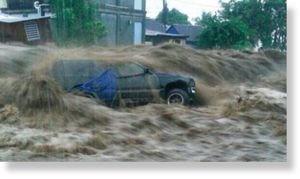 Tropical Storm Erika strengthened as it dumped torrential rain on islands in the Eastern Caribbean and appeared to be headed for the U.S. East Coast early next week, the U.S. National Hurricane Center said on Thursday.
Erika could reach hurricane status near Florida's east coast by Monday morning, the Miami-based government forecaster said.
Heavy rains lashed the small, mountainous island of Dominica with almost 9 inches reported at Canefield airport near the capital, Roseau.
Dominica's Tourism Minister Robert Tonge posted photographs and video on Facebook showing widespread flooding in the capital and urged everyone to stay inside.