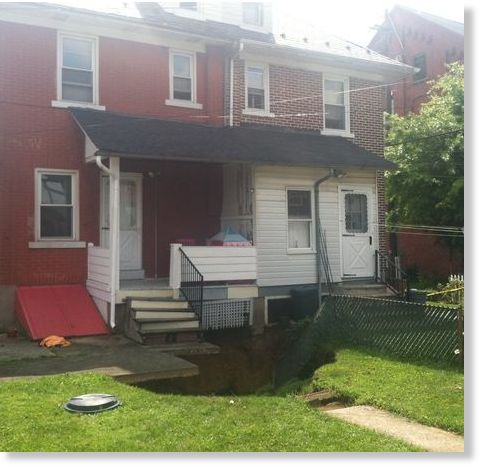 A set of twin homes in Fountain Hill were evacuated Monday after a sinkhole opened up in the 600 block of North Clewell Street.
Following heavy rainfall, the sinkhole swallowed a section of one home's backyard and extended beneath the porches and along the foundations of both residences near North Clewell's intersection with Long Street, not far from borough hall.
Assistant Chief David Boehrer, of the Fountain Hill Fire Department, said the sinkhole was spotted at about 6:25 p.m. and firefighters were called soon afterward to 605 and 607 N. Clewell St.
No one was hurt and both homes, which remain uninhabitable, were safely evacuated, he said today. The residents -- an elderly couple and a single man -- are staying with relatives who live in the area, he said.