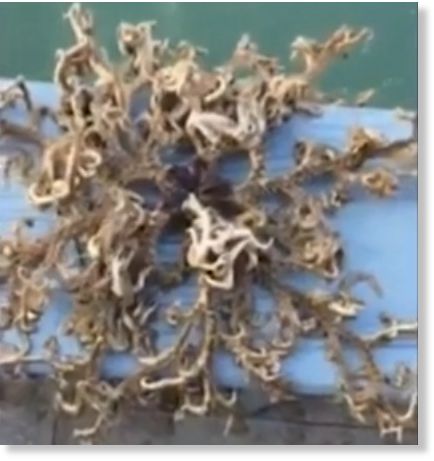 The unknown species resembles an octopus but appears to have up to 100 moving tentacle-like arms
This bizarre-looking 'alien' creature was caught by
a deep sea fisherman
in Singapore.
Ong Han Boon, 54, was at his favourite fishing spot on the island of Sentosa where he cast his line with the hope of catching a fresh tasty treat for lunch.
As he settled down with a few cans of his favourite beer, he noticed a pull, but he never expected what came up out of the sea.
He said: "I spotted the line going up and down, and feeling a bit peckish I got quite excited as I hauled it in.
"But when I pulled it out of the water I was completely flummoxed by what I was looking at."