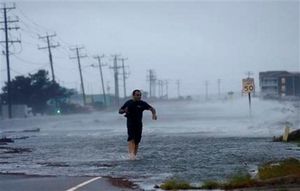 This year's Atlantic hurricane season is shaping up to be
one of the weakest in decades with only five named storms in the region so far this year
.
That is the fewest named storms since the full Atlantic season of 1983, when there were four. The 1994 season also had only five named storms into October, then two hurricanes formed in early November of that year.
Forecasters have projected another two named Atlantic storms for the rest of this year's season that ends Nov. 30. But there are no signs of any new ones spinning off Africa's west coast during what is usually the season's peak period - mid-August to late October.
"The tropical Atlantic is just dead,"
said Max Mayfield, a former director of the U.S. National Hurricane Center in Miami.
A typical June-November hurricane season has 12 named storms, nine of them hurricanes and three of those major.