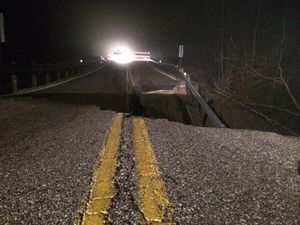 A portion of a central Ohio road will remain closed for the foreseeable future because of a large sinkhole that opened late Thursday night.
The 20 ft.-30 ft. sinkhole destroyed a chunk of S. York Road between Morse and Wesleyan Church Road near Pataskala.
A representative from the Licking County Engineer's Office began examining the damage at approximately 7 a.m. Friday, when heavy rain finally subsided after falling consistently in the area since Thursday morning.
Officials believe that rainfall, combined with wear and tear caused from winter weather as well as the road's position above a creek, likely caused the collapse.
A timetable for the repair of the road has not been established.