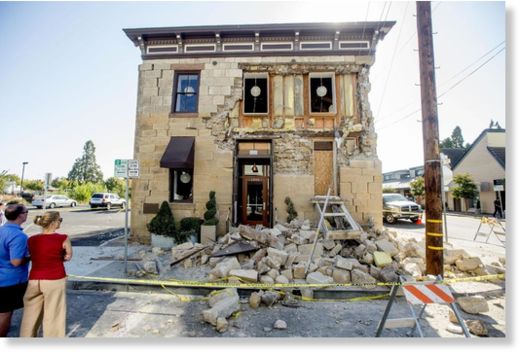 Three fault segments running beneath Northern California and its roughly 15 million people are overdue for a major earthquake, including one section that lies near the dams and canals that supply much of the state's water, according to a geological study published Monday.
The three fault segments and one other in the region are loaded with enough tension to produce quakes of magnitude 6.8 or greater, according to a geological study published Monday.
They include the
little-known
Green Valley fault, which lies near key dams and aqueducts northeast of San Francisco. Underestimated by geologists until now, the fault running between the cities of Napa and Fairfield is primed for a magnitude-7.1 quake, according to researchers from the U.S. Geological Survey and San Francisco State University.
The water supplies of the San Francisco Bay Area, Southern California and the farm-rich Central Valley depend on the man-made water system that links to the Sacramento and San Joaquin rivers, noted James Lienkaemper, the U.S. Geological Survey geologist who was lead author of the study. The Green Valley fault is last believed to have ruptured sometime in the 1600s.