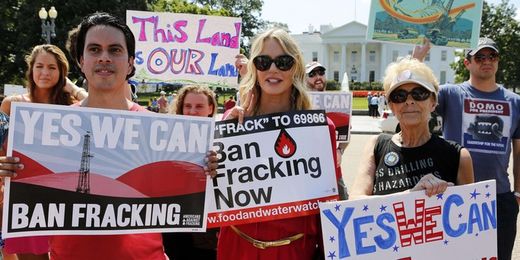 Hydraulic fracturing triggered a series of small earthquakes
in 2013 on a previously unmapped fault in Harrison County, Ohio, according to a study published in the journal
Seismological Research Letters
.
Nearly
400 small earthquakes
occurred between Oct. 1 and Dec. 13, 2013, including 10 "positive" magnitude
earthquake
, none of which were reported felt by the public. The 10 positive magnitude earthquakes, which ranged from magnitude 1.7 to 2.2, occurred between Oct. 2 and 19, coinciding with hydraulic fracturing operations at nearby wells.
This series of earthquakes is the first known instance of seismicity in the area
.
Hydraulic fracturing, or fracking, is a method for extracting gas and oil from shale rock by injecting a high-pressure water mixture directed at the rock to release the gas inside. The process of hydraulic fracturing involves injecting water, sand and chemicals into the rock under high pressure to create cracks. The process of cracking rocks results in micro-earthquakes. Hydraulic fracturing usually creates only small earthquakes, ones that have magnitude in the range of negative 3 (−3) to negative 1 (-1).
"Hydraulic fracturing has the potential to trigger earthquakes, and in this case, small ones that could not be felt,
however the earthquakes were three orders of magnitude larger than normally expected
," said Paul Friberg, a seismologist with Instrumental Software Technologies, Inc. (ISTI) and a co-author of the study.