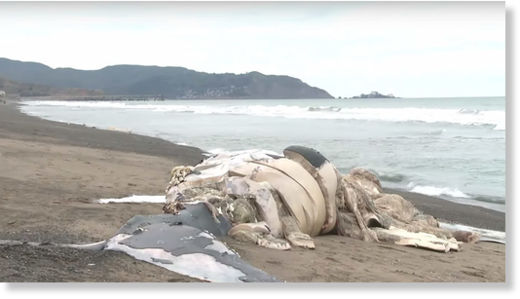 The death of 30 whales off the coast of Alaska may be linked to a rapid growth of toxic phytoplankton in the local marine environment that can paralyze as well as kill, a University of Alaska scientist told RT.
While a federal investigation has been opened into the giant mammals' mysterious demise - a situation that's been labeled an "unusual mortality event" - one of the leading theories is that an algal bloom is to blame, as they have been the cause of many similar events in the past.
"It's a bloom of phytoplankton in the ocean that actually releases toxins," Dr. Bree Witteveen, a marine mammal specialist at the University of Alaska, told RT. "Those get accumulated into various preys and it works its way up the food chain, and can cause paralysis and death."
She added that these whales were not beaching themselves, but had died at sea and were washed ashore. It's not exactly surprising for dead whales to wash ashore, but the number of instances recorded this year is particularly unusual.