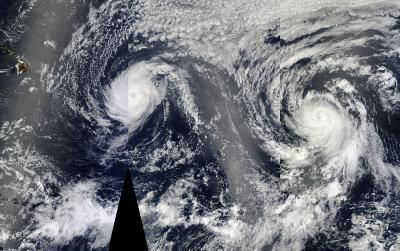 Before the Hawaii-bound storm Julio strengthened into a hurricane, a NASA satellite spotted a high-energy flash of "dark lightning" coming from the swirling clouds.
NASA's Fermi Gamma-ray Space Telescope is designed to detect the brightest explosions in the universe -
gamma-rays
emitted from sources like supermassive black holes or stars that go supernova. But gamma-rays, which are invisible to the naked eye and last only a few thousandths of a second, can also come from sources on Earth.
On Monday (Aug. 4) at 4:19 a.m. EDT (0819 GMT), when Julio was still a fledgling tropical storm hundreds of miles off the coast of Mexico, Fermi witnessed what's known as a
terrestrial gamma-ray flash
(TGF) above the clouds, according to NASA. [
Elves, Sprites & Blue Jets: Photos of Earth's Weirdest Lightning
]