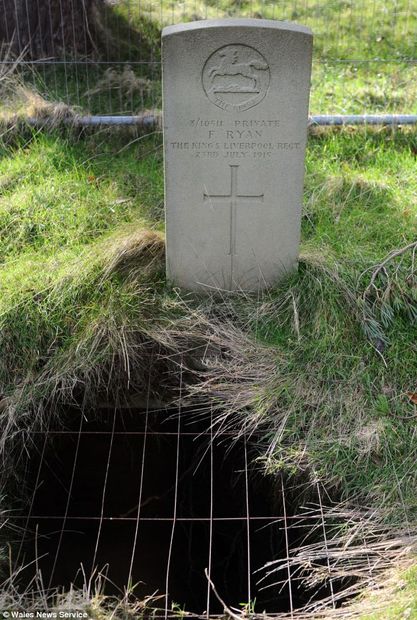 * The remains of Private Francis Ryan have been swallowed by the sinkhole
* His headstone remains teetering on the edge of the 20ft deep hole
* The soldier served in the 3rd Batallion, King's Liverpool Regiment, and died in England in July 1915. He was born in Longford, Ireland
* Military have so far failed in efforts to trace his relatives
* Sinkhole in Pembroke Dock will be filled with grout to stop the grave sinking
Military chiefs are fighting to save the grave of a First World War soldier called Private Ryan after a giant sinkhole opened up in a cemetery.
The body of the serviceman who died aged 40 has been lost after the 20ft deep hole appeared in the spot where his body was laid to rest.
Private Francis Ryan, who served in the 3rd Battalion, King's Liverpool Regiment, died in England in July 1915.