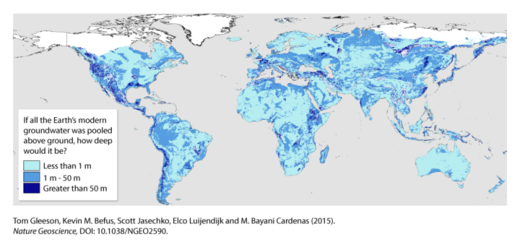 Groundwater: it's one of the planet's most exploited, most precious natural resources. It ranges in age from months to millions of years old. Around the world, there's increasing demand to know how much we have and how long before it's tapped out.
For the first time since a back-of-the-envelope calculation of the global volume of groundwater was attempted in the 1970s, an international group of hydrologists has produced the first data-driven estimate of the Earth's total supply of groundwater. The study, led by Dr. Tom Gleeson of the University of Victoria with co-authors at the University of Texas at Austin, the University of Calgary and the University of Göttingen, was published today in
Nature Geoscience
.
The bigger part of the study is the "modern" groundwater story. The report shows that
less than six per cent of groundwater in the upper two kilometres of the Earth's landmass is renewable within a human lifetime.
"This has never been known before," says Gleeson. "We already know that water levels in lots of aquifers are dropping. We're using our groundwater resources too fast—faster than they're being renewed."
With the growing global demand for water—especially in light of climate change—this study provides important information to water managers and policy developers as well as scientists from fields such as hydrology, atmospheric science, geochemistry and oceanography to better manage groundwater resources in a sustainable way, he says.