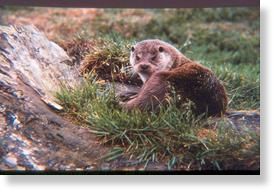 The International Otter Survival Fund (IOSF) has become increasingly concerned about the decline of many species of otter in different countries with many little or no government conservation support.
As recently as 2012, the Japanese Otter was officially declared extinct, and of the 13 species across the world, nine are declining in numbers.
In the IUCN Red List, five species are classed as Endangered and two as Vulnerable, meaning that they are facing a high or very high risk of extinction in the wild.
The Eurasian otter, the only species which we have in the UK, is overall classed as Near Threatened, despite recent rises in UK populations, but in Asia it is believed to be critically endangered.
Asia forms about 80 per cent of the geographical range of the Eurasian otter.
In parts of China it is almost extinct and in the Changbaishan Mountain Reserve numbers went down from 1.2 million in 1975 to just 4 in 2012 - a decline of over 99 per cent.
There have been no sightings of the species since the early 1990s in Bangladesh, Indonesia, Sri Lanka, Cambodia, Vietnam and most of India
. Even in Europe it is declining in some areas.