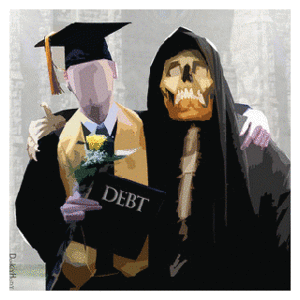 Ralph Waldo Emerson once said,
"A man in debt is so far a slave."
Money has no intrinsic value yet we spend our days damaging our health and spirit in order to obtain it. Why do we sacrifice our well-being for it? Is it the cliché that "we just want to provide a better life for our kids than we had?" Is it just way of the civilized world? The most important question to ask, however, is what power do we have to change this way of thinking and living? The reality is simple:
money is a vehicle for social control.
Debt makes us good, obedient workers and citizens.
The traditional workweek started in 1908 at The New England Cotton Mill in order to allow followers of the Jewish religion to adhere to Sabbath. With the passage of
The Fair Labor Standards Act in 1938
, the 40-hour workweek became the norm. Data from the 2013
American Community Survey
showed that the average commute time in America is about 26 minutes each way. According to a Gallup poll, the average workweek in America is 34.4 hours, however, when only taking into account full time workers, that average shoots up to 47, or 9.4 hours per day during a 5-day workweek. Keeping averages in mind then, between commuting, working and figuring in an hour for lunch (usually less), that puts us at approximately 11 hours and 40 minutes for the average full time worker. If you have a family with young kids, just add in another few hours for homework, baths, etc.