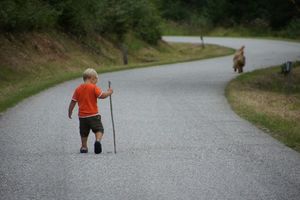 My son recently asked me if it was possible that we lived on a speck of dust in a much larger universe. He explained that he had just watched
Horton Hears a Who
again and it had him thinking. I, ever eager to promote the impossible, said I don't see why not. And he walked about blissfully conjuring the possibilities.
What is it about fantastic speculation that makes it so compelling a past time? Many of us read science fiction, or watch documentaries about aspects of our world that we will never experience, and yet we love it. We love to hear that there may be parallel universes or ways to go back in time. I recently read an
article (link is external)
in
National Geographic
magazine that argued that we may live in the center of a black hole, created in a multiverse, where black holes that experience just the right conditions expand into universes like our own—as if they were flowers. I felt like I had taken mescal after reading that article. I walked around for a week just smiling at everything.
But why?
To my knowledge, no other species cares if we live inside or outside of a blackhole. No other species considers it interesting that quantum probability requires something to collapse the wave function (like consciousness) or else that there are many worlds, infinite and ever increasing parallel universes in which every possibility happens. All of these theories are like
drugs
—like mind-expanding mushrooms that open Huxley's doors of perception. They each carry with them such a fantastic vision of reality that
we are forced to rethink our place in the universe and thereby the limits of who we are as individuals, as a species, and as life itself.
What is it that makes this capacity for wonder possible?
The answer lies in part in how we understand ourselves.