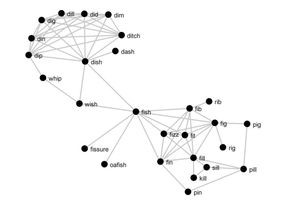 Much like key players in social networks, University of Kansas scientists have found evidence that there are keywords in word networks that hold together groups of words in our memory.
In a study published in the
Journal of Memory and Language
, Michael Vitevitch, KU professor of psychology, showed that research participants recognized these keywords more quickly and accurately than other words that were like the keywords in many respects except for their position in a network of 20,000 similar-sounding English words that he and colleagues created in 2008.
"If words are indeed stored like a network in memory, said Vitevitch, "we should be able to see how characteristics of the network affect language-related processes. Our findings clearly show that there are words that hold key positions on the word network and that we process them more quickly and accurately than similar words that they hold together in our memory."