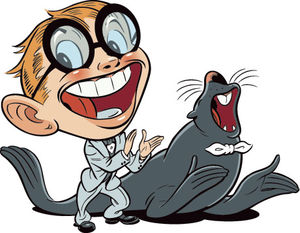 Why do we applaud a great performance? Why not stand on our heads or click our heels instead? Who started this hand-clapping stuff?
Hear, hear! Huzzah! Bravo! Excellent question. Superb, really. And ultimately unanswerable. As Elwyn Simons, head of Duke University's Division of Fossil Primates, tells AF, "We don't know how far back it goes, not without a time machine. Cavemen and human ancestors - we don't know whether they clapped hands or not. But you don't find primates doing it unless they've been taught to do it. They do clap hands in the wild. It's not to applaud something; it's because they're frightened or want to call attention to food."
Yvette Blanchard, a pediatric physical therapist and researcher at the University of Hartford, says that human clappers are made, not born. "I think it's a learned behavior. What I've seen babies do spontaneously, from excitement, is clasp their hands together. But the motion of clapping, I think that's a learned behavior."