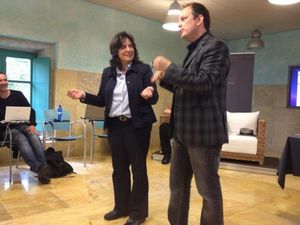 "I see you have a watch with a buckle." Standing at my side, Apollo Robbins held my wrist lightly as he turned my hand over and back.
I knew exactly what was coming but I fell for it anyway. "Yes," I said, trying to keep an eye on him, "that looks pretty easy for you to take off, but my rings would be harder." He agreed, politely, while looking down at my hands and then up into my eyes: "Which one do you think would be hardest to remove?"
While I considered the answer, he had already removed my watch and put it on his own wrist behind his back, unseen. He isn't called the "The Gentleman Thief" for nothing.
Robbins had just skillfully managed my attentional spotlight - that is, the focus of awareness at any given moment. To conceal his pilfering, Robbins had employed what is generally called "misdirection": he got me to attend to the wrong things, added to my brain's cognitive load with his humorous patter, created a distracting internal dialogue in me by giving me a question to answer, and generally flummoxed me all the while by pressing here and there on a shoulder or wrist. Adding insult to injury, Robbins had just described what he does - and shown his techniques while swiftly lifting another watch and emptying the pockets of the amiable Flip Phillips of Skidmore College. Still, I never stood a chance. My response to being fooled so easily? I laughed out loud. (Watch Robbins work in this
Scientific American
video,
"Magic and Science Together Again at Last"
and learn more in this
blog post
.)