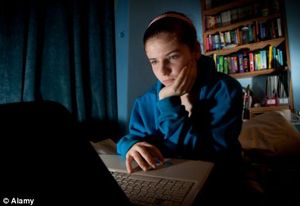 Children who watch films with a high sexual content tend to lose their virginity earlier and have more partners, a study has found.
Not only are they more promiscuous, they are also more likely to engage in risky sex by not using condoms.
The six-year study of more than 1,200 teens refers to sexual content in films but campaigners against online porn say it could equally apply to videos on the internet.
They point out that children can now see a lot more sexual imagery online than they ever did at the cinema - meaning that the effect will be magnified. Pornographic images and videos are freely available on the net, many on sites with no age verification procedures at all, putting children at risk.
The NSPCC warns that young male teens are now pressurising their girlfriends to copy what they see on porn films downloaded from the internet.
Other reviews have found that exposure to porn makes boys more likely to view girls as sex objects.
The
Daily Mail
is campaigning for an automatic block on online porn. Over-18s would be able to see adult material only if they specifically opted in.