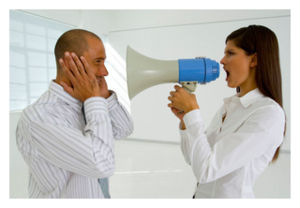 We've all heard the oft-repeated statistics about women talking more than men. And to back up those statistics, one previous study has shown that a part of the brain responsible for processing communication is simply larger in a woman than a man. Now, a new study adds to those claims by moving a step further, showing that the female brain is actually designed with communication in mind.
Performed by doctors at the
University of Maryland
School of Medicine, this study has linked being talkative with a particular protein found in the brain called FOXP2. Women have been found to have more of this protein in their brains, leading the researchers to believe this is why women are more vocal than men.
The results of this study have been published in the
Journal of Neuroscience
.
"This study is one of the first to report a sex difference in the expression of a language-associated protein in humans or animals," explained the study's co-author Margaret McCarthy, PhD, in a prepared
statement
. "The findings raise the possibility that sex differences in brain and behavior are more pervasive and established earlier than previously appreciated."
Science, it seems, has been forever curious about a female's tendency to be more communicative and has been looking for this answer for years. The link between
FOXP2
and speech was first discovered at the turn of the century and was found to connect vocalization in a host of different animals, such as bats, mice and rats. This latest study started off by observing this correlation in rats before moving on to young children.