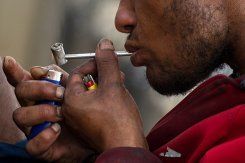 Drug addicts have inherited abnormalities in some parts of the brain which interfere with impulse control, said a British study published in the United States on Thursday.
Previous research has pointed to these differences, but it was unclear if they resulted from the ravages of addiction or if they were there beforehand to predispose a person to drug abuse.
Scientists at the University of Cambridge compared the brains of addicts to their non-addicted siblings as well as to healthy, unrelated volunteers and found that the siblings shared many of the same weaknesses in their brains.
That indicates that the brain vulnerabilities had a family origin, though somehow the siblings of addicts -- either due to environmental factors or other differences in brain structure -- were able to resist addiction.
"Presumably, the siblings must have some other resilience factors that counteract the familial vulnerability to drug dependence," said the study led by Karen Ersche of the University of Cambridge, published in the journal
Science
.
"An individual's predisposition to become addicted to stimulant drugs may be mediated by brain abnormalities linked to impaired self-control."