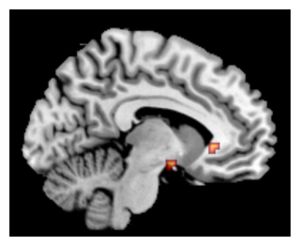 People prone to depression may struggle to organize information about guilt and blame in the brain, new neuroimaging research suggests.
Crushing guilt is a common
symptom of depression
, an observation that dates back to
Sigmund Freud
. Now, a new study finds a communication breakdown between two guilt-associated brain regions in people who have had depression. This so-called "decoupling" of the regions may be why depressed people take small faux pas as evidence that they are complete failures.
"If brain areas don't communicate well, that would explain why you have the tendency to blame yourself for everything and not be able to tie that into specifics," study researcher Roland Zahn, a neruoscientist at the University of Manchester in the United Kingdom, told LiveScience.
The seat of guilt
Zahn and his colleagues focused their research on the subgenual cingulated cortex and its adjacent septal region, a region deep in the brain that has been linked to
feelings of guilt
. Previous studies have found abnormalities in this region, dubbed the SCSR, in people with depression.
The SCSR is known to communicate with another brain region, the anterior temporal lobe, which is situated under the side of the skull. The anterior temporal lobe is active during thoughts about morals, including guilt and indignation.
The researchers suspected that perhaps the communication channels between the SCSR and the anterior temporal lobe help people feel guilt adaptively rather than maladaptively: "I messed up and shouldn't do that again," versus "I fail at everything, why do I even try?"
The researchers recruit 25 participants who had a history of major depression but who had been symptom-free for at least a year. The participants underwent functional magnetic resonance imaging (fMRI), a type of brain scan that reveals blood flow to active areas of the brain. As their brains were scanned, the participants read sentences designed to illicit guilt or indignation. Each sentence featured the participant's name as well as the name of their best friend. For example, "Tom" might read a sentence like, "Tom acts greedily toward Fred," to elicit guilt. The sentence "Fred acts greedily toward Tom" would trigger indignation.
The researchers compared the brains of these once-depressed volunteers with the brains of 22 healthy, never-depressed controls, matched to the depressed volunteers on age, education and gender.