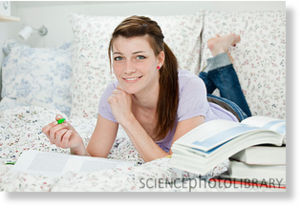 Nodding off in class may not be such a bad idea after all. New research from the University of Notre Dame shows that going to sleep shortly after learning new material is most beneficial for recall.
Titled "Memory for Semantically Related and Unrelated Declarative Information: The Benefit of Sleep, the Cost of Wake," the study was published March 22 in
PLOS One
.
Notre Dame Psychologist Jessica Payne and colleagues studied 207 students who habitually slept for at least six hours per night. Participants were randomly assigned to study declarative, semantically related or unrelated word pairs at 9:00 a.m. or 9:00 p.m., and returned for testing 30 minutes, 12 hours or 24 hours later. Declarative memory refers to the ability to consciously remember facts and events, and can be broken down into episodic memory (memory for events) and semantic memory (memory for facts about the world). People routinely use both types of memory every day - recalling where we parked today or learning how a colleague prefers to be addressed.