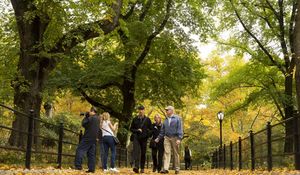 A wealth of research shows that just being in nature, even a city park, can make us feel better, both psychologically and physically. Such contact with nature can improve mood, reduce pain and anxiety, and even
help sick or injured people heal faster
.
But what effect does it have on groups of people and society at large? New research suggests that
nature can actually improve the degree to which people feel connected to and act favorably toward others, specifically their neighbors
, says
Netta Weinstein
, a senior psychology lecturer at Cardiff University in Wales.
Weinstein and colleagues conducted a large and wide-ranging study of 2,079 participants from throughout the United Kingdom. They asked each person a bunch of questions, such as how much time they spend in nature and how many parks and how much vegetation is found in their neighborhoods. They also queried them about how much they cared about and felt connected to their neighbors. The researchers also looked at each person's socio-economic status, the crime rate in the area, and other measures.
The study,
published November 25
in the journal
Bioscience
, found that contact with nature
accounted for a small, but significant increase in the degree to which people felt socially connected. Experience in nature was also tied to a reduction in local crime rates.