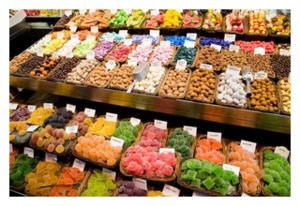 Think you'll always pick chocolate over a bag of chips? Don't be so sure. Researchers have found that if they can get people to pay more attention to a particular type of junk food, they will begin to prefer it - even weeks or months after the experiment. The finding suggests a new way to manipulate our decisions and perhaps even encourage us to pick healthy foods.
"This paper is provocative and very well done," says Antonio Rangel, a neuroeconomist at the California Institute of Technology in Pasadena, who was not involved in the new study. "It is exciting because it's a proof of concept that a relatively simple intervention can have this long-lasting effect."
Economists who study decision-making had previously found that, when deciding between multiple items, people tend to let their gaze linger on the things that they end up choosing. This observation has motivated companies to pursue flashy packaging to attract consumers' eyes.
Tom Schonberg, a neuroscientist at the University of Texas, Austin, wondered whether people's preferences could be changed before being faced with such a decision by training their brains to pay more attention to certain items.
His first task was figuring out what kind of junk food people preferred. He and his colleagues recruited more than 200 university students and set up an auction-style program that asked them how much they were willing to pay for 60 different kinds of snacks, from M&M's to Fritos. Then, the participants went through a 30- to 50-minute computer training program that showed photos of foods that the participants had already rated. When some treats appeared on the screen, a short tone would play and signal the subject to press a button as fast as possible. When other treats popped up, the computer remained silent and the subject refrained from pressing the button.