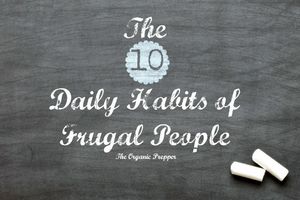 There's a big movement towards frugality afoot these days. It probably has something to do with our declining economy, record unemployment levels, and the increasing price of food, but only the wisest families are paying attention to these things. The rest of the folks are blithely going on as they always have, wondering why on earth they keep spending more money each week at the store.
If you are just beginning to move towards a thriftier lifestyle, you might be looking at the big picture. You could be asking yourself things like, "How can I save money on my car?" or "How can I pay less for that new laptop?" These are all fine things to do - paying less is great, but shopping for a bargain is actually
not
the key to a frugal lifestyle.
Living a life of thrift and frugality is all about the little habits. It's about your mindset. Saving money on enormous expenditures is great, but it is the small daily actions that add up and change your life.
Truly frugal people absolutely LOVE saving money. Embrace these daily habits and make them your own. You'll soon see an incredible difference in the way you look at pretty much everything.