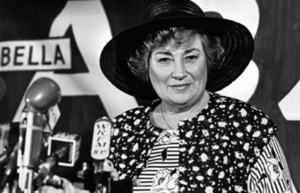 In mid-1970s, feminist and peace movement activist Congresswoman Bella Abzug tore through the intel world, fearlessly taking on the CIA and the NSA for surveilling Americans. So I've been reading some of her hearings, and it turns out that the dynamics of the intelligence world (in this case the CIA) and its relationship with Congress and the public haven't changed at all. Today, journalist Jason Leopold
is nicknamed
a 'FOIA terrorist' by a 'certain government agency' because he files so many requests so effectively, and sues when they deny him the things to which he is entitled.
This was going on in the 1970s, right after FOIA was amended to allow requests to the intel community. Bella Abzug was one member who helped make that happen, with hearings and legislative initiatives to force various agencies to reveal who they were surveilling.
Abzug's tenure in Congress was short but incredibly influential - she was nearly redistricted out of her spot in 1972, and eventually was drummed out of politics in 1976. But wow did she leave a mark. Here's a
hearing in 1975
during which she went after the CIA Director, William Colby, for keeping files on peace activists and members of Congress. It's a remarkable hearing, not just for the stunning and aggressive back and forth between Colby and Abzug, but also for the ass-kissing of the CIA by chief GOP ranking member Sam Steiger and how FOIA and information disclosure became the focal point of tension.
Here are two excerpts.