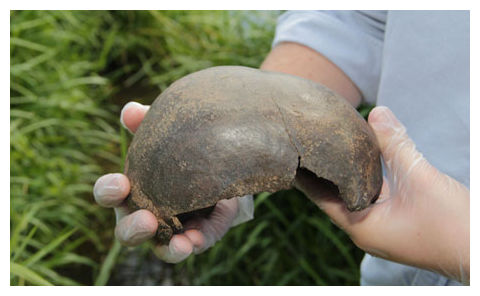 A 5,000-year-old mystery has been sparked after part of a human skull was found on a riverbank. Archaeologists said the unbroken piece of upper skull was in "fabulous" condition with the intricate marks from the blood vessels still visible on the inner surface.
There are suggestions it may have belonged to a middle-aged woman from the neolithic period - around the time Stonehenge was built. The skull is also prompting questions about where it may have come from.
A dog walker stumbled across the fragment, which measures 15cm by 10cm (6in by 4in), this year but initially thought it was part of a ball or a coconut shell. The next day he returned to the site on the banks of the Avon near Pershore, Worcestershire, for a closer look and, realising what it was, called police.
West Mercia police contacted experts at Worcestershire Archaeology, who sent the skull to be radiocarbon dated.