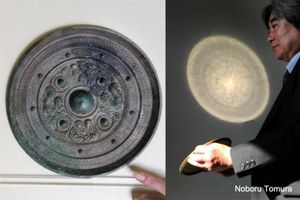 Rulers of ancient Japan may have used a "magic mirror" to conjure up images of mountain wizards and divine beasts for sun-worshipping rituals.
The Kyoto National Museum said Jan. 29 patterns engraved on the back of a type of bronze mirror associated with ancient queen Himiko are projected on a wall when sunlight reflects off the front.
Ryu Murakami, head of the museum's curatorial board, said the discovery could provide valuable clues in studying how bronze mirrors were used in ancient Japan.
"Someone apparently noticed the phenomenon and intentionally shaped mirrors in this way," he said. "I believe they have something to do with sun worship."
Using a 3-D printer, Murakami, an expert in historical materials science, produced replicas of two Sankakubuchi Shinjukyo mirrors from materials used in the originals, such as copper and tin powder.