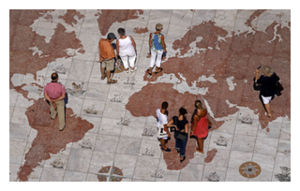 Linguists have found a group of words consisting of nouns, verbs, adjectives and adverbs that date back 15,000 years. The words have remained unchanged and have the same meaning and also sound almost the same as they did at the end of the Ice Age.
Words have an expiration date and can't survive more than 8,000 to 9,000 years, according to traditional views. Just as the dinosaurs were driven into extinction, so do words evolve and the adoption of replacements from other languages is introduced.
A new study shows that this is not always the case, however, as a team of researchers discovered that there are about two dozen words that have lived 15,000 years. Some of the words, referred to as "ultraconserved words," are predictable, such as "mother," "not," "what," "to hear" and "man."
It's suggested that there was a "proto-Eurasiastic" language that was the common ancestor of the native tongues of over half of the people in the world. This "mother language" gave birth to approximately 700 contemporary languages.
"We've never heard this language, and it's not written down anywhere. But this ancestral language was spoken and heard. People sitting around campfires used it to talk to each other," evolutionary theorist at the University of Reading in England, Mark Pagel,
said
.