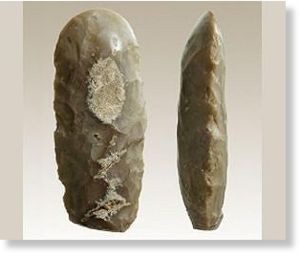 During the Neolithic Age (approximately 10000-6000 BCE), early man evolved from hunter-gatherer to farmer and agriculturalist, living in larger, permanent settlements with a variety of domesticated animals and plant life. This transition brought about significant changes in terms of the economy, architecture, man's relationship to the environment, and more.
Now Dr. Ran Barkai of Tel Aviv University's Department of Archaeology and Ancient Near Eastern Civilizations has shed new light on this milestone in human evolution, demonstrating a direct connection between the development of an agricultural society and the development of woodworking tools.
"Intensive woodworking and tree-felling was a phenomenon that only appeared with the onset of the major changes in human life, including the transition to agriculture and permanent villages," says Dr. Barkai, whose research was published in the journal
PLoS One
. Prior to the Neolithic period, there is no evidence of tools that were powerful enough to cut and carve wood, let alone fell trees. But new archaeological evidence suggests that as the Neolithic age progressed, sophisticated carpentry developed alongside agriculture.