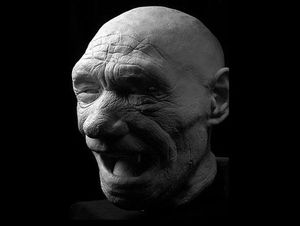 For ages, anthropologists have puzzled over Neanderthal and human brains, since they were the same size. If each species had comparable brainpower, why did humans dominate?
A comparison of Neanderthal and human brains has revealed it was a matter of allocation: Neanderthal brains focused more on vision and movement, leaving less room for cognition related to social networking.
According to the study, published in the journal Proceedings of the Royal Society B,
bigger eyed and larger bodied Neanderthals required more brain space devoted to the visual system and basic body functions, leaving less area for what co-author Robin Dunbar called "the smart part."
He explained to Discovery News that this is "the part that is doing the creative thinking."
Dunbar, a professor of evolutionary psychology at the University of Oxford, and colleagues Eiluned Pearce and Chris Stringer compared the skulls of 32 anatomically modern humans and 13 Neanderthals. The skulls date to 27,000 to 75,000 years ago. The researchers noticed that Neanderthals had significantly larger eye sockets.