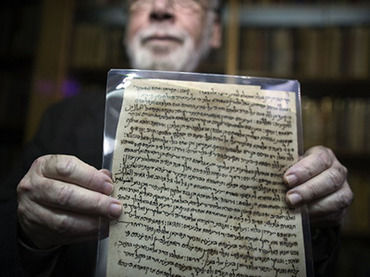 Israel's National Library has acquired 1,000-year-old Jewish documents discovered in Afghanistan. The collection of 29 pages includes writings by Saadia Gaon, and has been compared in significance to the 19th-century discovery of the Cairo Genizah.
The rare documents were discovered by villagers near the Iran-Uzbekistan border in a cave believed to be the home of a family of foxes. The manuscripts include religious writings, as well as letters and civil contracts written in Hebrew, Aramaic, Arabic and Persian, and in a variety of alphabets.
The cache, sometimes known as the Afghan Genizah, has "rocked the world of scholars" who study ancient manuscripts, as well as the dealers who buy and sell them, Haaretz reported.
The key manuscript acquired by the library is a page from Saadia Gaon's commentary on the Bible. The document is a 10th-century commentary on Isaiah 34, written in Judeo-Arabic.