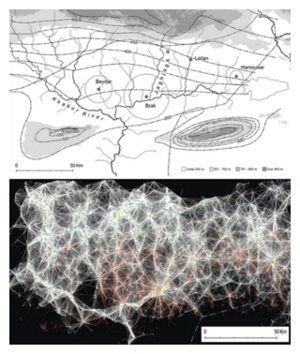 How do you map the expansion of Earth's earliest civilizations? For years, researchers have tackled this daunting task on a settlement-by-settlement basis, searching for clues in mounds of earth throughout the Middle East.
But now, researchers have turned to satellite imagery to uncover a vast network of over 14,000 long-overlooked Mesopotamian settlements, spanning 8,000 years of ancient civilization. Their findings represent a monumental step forward for the fields of archeology and anthropology, and suggest that an aerial perspective may hold the key to unlocking the mysteries of humanity's first major settlements.
A significant body of archaeological evidence suggests that the earliest civilizations arose in Mesopotamia, the geographic region that today comprises Iraq, northeast Syria, southeast Turkey and southwest Iran. The size and distribution of these settlements throughout the Mesopotamian landscape, however, has long remained something of a mystery.
Traditional archeological techniques require researchers to search for evidence of these ancient civilizations up close, at the ground level. This is an excellent method for learning about individual settlements, but is a painstaking way to make sense of how these communities may have interacted with one another, or spread across the landscape over time.