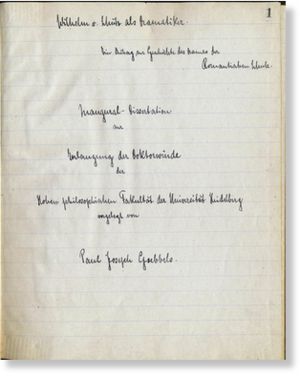 New Haven, Connecticut - The love letters, school papers and dramatic works of college-age Joseph Goebbels reveal a romantic young man beginning to show signs of anti-Semitism and egotistical and controlling behavior, according to a Connecticut auction house selling the pre-war writings of Adolf Hitler's propaganda chief.
Alexander Historical Auctions plans to sell the collection on Sept. 27 in Stamford, saying it may prove invaluable in providing historical and psychological insights.
"It sums up the formative years of the number two man in the Third Reich, who was responsible for motivating the masses in Germany to back Hitler," said Bill Panagopulos, the company's president. "In my opinion, it shows how this rather simple, shy and love-struck college student really just became radicalized."
The thousands of pages include Goebbels' college dissertation, report cards, dozens of poems, school essays and letters from relatives, friends and girlfriends.
"You really get a feel for what's going on in his head," Panagopulos said. "There's a lot of information if somebody wants to dig into the mind of this man who grew into a lunatic."
In an early sign of his ego, Goebbels would sign some of his materials with numerous signatures. Toward the later years of the collection, Goebbels is starting to show anti-Semitic tendencies, Panagopulos said. He added that the auction house has only translated about 10 percent of the papers and has had a tough time with Goebbels' handwriting.
The sale sparked concerns by a leader of a Holocaust survivors group who criticized the auction house's sale last year of the journals written by Nazi death camp doctor Josef Mengele.