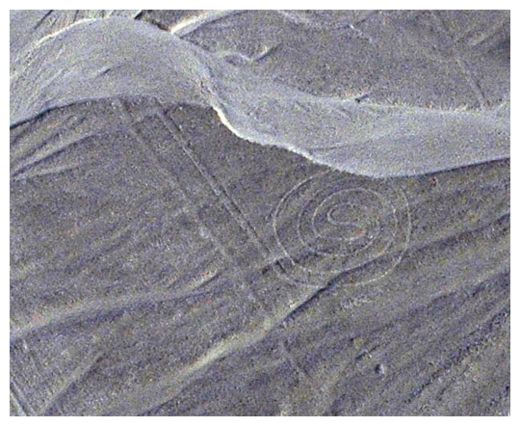 A large labyrinth lies in the midst of Peru's Nazca Lines, according to the most detailed study on the enigmatic desert etchings created between 2,100 and 1,300 years ago.
Completely hidden in the flat and featureless landscape, the labyrinth was identified after a five-year investigation into the arid Peruvian coastal plain land, about 250 miles south of Lima, where the mysterious geoglyphs are located.
"As you walk it, only the path stretching ahead of you is visible at any given point," Clive Ruggles of the University of Leicester's School of Archaeology and Ancient History, said.
Ruggles and colleague Nicholas Saunders of the University of Bristol's Department of Archaeology and Anthropology walked more than 900 miles of desert, tracing the lines and geometric figures carved between 100 B.C. and 700 A.D. by the Nasca people. They reported their findings in the December issue of the journal
Antiquity
.
Also known for their obsession over trophy heads - - they boasted the largest collection of human heads in the Andes region of South America -- the Nazca flourished in Peru between the first century B.C. and the fifth century A.D. and slid into oblivion by the time the Inca Empire rose to dominate the Andes.