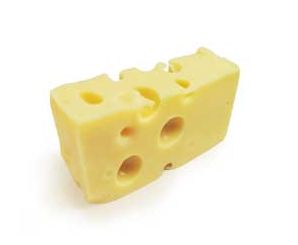 About 7,000 years ago, dairy farmers in modern-day Poland used clay strainers to turn cow's milk into cheese.
The new discovery offers the earliest evidence yet of cheese-making, which began before people developed the ability to digest the lactose sugars in unprocessed milk.
Not only did cheese, which contains very little lactose, provide a valuable source of nutrition for prehistoric Europeans. It also allowed them to store milk in a form that was easy to transport and would keep for months without spoiling.
"The interesting thing is that people at that stage could not digest the lactose in the milk, so processing milk into cheese would have given them the benefit from the nutritious effects of milk without having the side-effect of being ill," said Mélanie Salque, a chemist at the University of Bristol in the United Kingdom.
"It was a very good product for them because you don't have to kill animals to get the milk out of them," she added. "Milk was a big development and cheese was as well."
Some 30 years ago, archaeologists described sieve-like pottery fragments found in a region of north-central Poland, where some of the region's earliest farmers settled. The shards dated back to between 7,200 and 6,800 years ago. And the holes in the sieves were tiny, just two or three millimeters (about a tenth of an inch) wide.