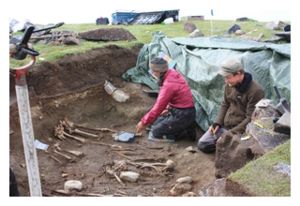 Seals made up as much 80 percent of the Viking diet in Greenland, new analyses of Norse skeletons reveal. The finds suggest that the settlers' mysterious disappearance from Greenland 500 years ago was hardly due to an inability to adjust to the icy environment.
"Even though the Norse are traditionally thought of as farmers, they adapted quickly to the Arctic environment and the unique hunting opportunities," explained researcher Jan Heinemeier of Aarhus University in a statement. "During the period they were in Greenland, the Norse ate gradually more seals."
Through analyses of the carbon isotope ratios in bone samples from 80 Norse skeletons, the researchers determined that a large proportion of the Vikings' diet came from seafood, with
seals
making up between 50 and 80 percent by the 14th century.
The first Norse transplants brought farming and domestic animals such as cattle, sheep, goats and pigs from Iceland to Greenland. But the new findings challenge the view that these settlers stuck to this lifestyle until increasingly harsh conditions, and possibly a "
Little Ice Age
," drove them to starve or settle elsewhere.