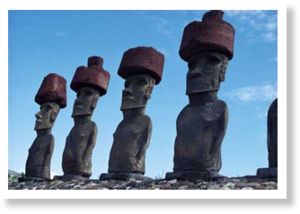 The riddle of why scores of the statues on Easter Island are wearing red hats may have been solved by a team of British researchers.
The presence of the large disks of red stone has been one of the great mysteries of the island, situated 2,500 miles off the coast of Chile, since European archeologists began studying it a century ago.
Dr Colin Richards from the University of Manchester and Dr Sue Hamilton from University College London managed to reconstruct the journey taken by the sculptured rocks after following an ancient road which leads to a "sacred" quarry where the material was mined.
Dr Richards told
The Independent
: "It is clear that the quarry had a sacred context as well as an industrial one. The Polynesians saw the landscape as a living thing and after they carved the rock the spirits entered the statues."