Long ago, tens of thousands of residents populated an area east of modern day St. Louis we call today as Cahokia. Starting in about 700 A.D. and lasting about 600 years, this metropolis rivaled in size other large cities such as London. Around 1000 A.D., the area exploded in growth from about 1000 to 15,000 (some say even 40,000) people in just 100 years. With certainty it was the largest and most advanced city north of Mexico before Columbus arrived.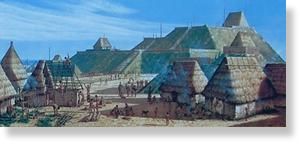 One hundred and twenty earthen mounds were built solely with human hands by moving dirt with stone hoes and woven baskets. Five large and extremely accurate cedar pole solar calendars similar to Stonehenge were constructed in a central plaza. Sophisticated wooden buildings were built for ritual and residential purposes. Trade was conducted with other societies thousands of miles away. A defensive wall with watch towers circled the city. They had a prominent, central system of government made up of chiefs, religious leaders and an elite class. Lesser class citizens grew crops for the upper class and other urban residents who were mainly tradesmen and artisans.
And then they were gone.