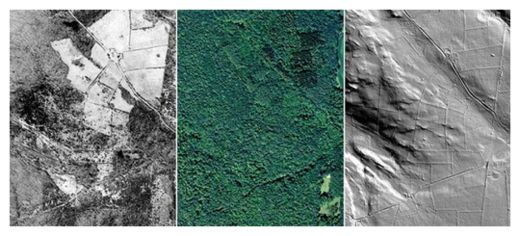 Hidden ruins are customary in the
wild jungles of South America
or on the white shores of the Mediterranean Sea. Now, researchers have uncovered a long-lost culture closer to Western civilization - in New England.
Today, southern New England is shrouded by lush forests, whose autumnal colors attract thousands of tourists and hikers each year. Urban hubs - Boston, Providence, Hartford - are peppered throughout. Rewind the clock 300 years, however, and the landscape would be unrecognizable, with much of the wooded countryside replaced by hundred-acre farms. Agriculture was king in New England until widespread industrialization in the 19th century led farmers to abandon their fields and move to cities. The forest stirred and soon reclaimed the disavowed land, cloaking the structural relics of a vast agrarian past.
In a new study, which will be published in the March issue of the
Journal of Archaeological Science
, geographers Katharine Johnson and William Ouimet of the University of Connecticut, Storrs,
uncovered these preserved sites without ever lifting a shovel
. Using aerial surveys created by
LiDAR
, a laser-guided mapping technique, the team detected the barely perceptible remnants of a former "agropolis" around three rural New England towns.