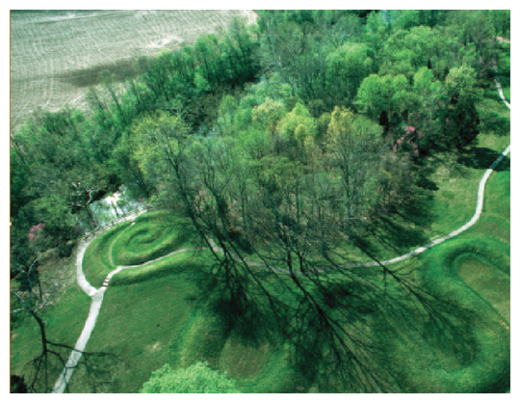 Is it home to a mine for spaceship fuel? Could it be a portal to another dimension, ready to be activated? Is it a place of hidden paranormal powers? Was it a safe spot to be when the 2012 Mayan prophecy predicted the end of the world? Is it an ancient indigenous homage to the summer and winter solstice?
Officially Serpent Mound is the largest surviving prehistoric effigy mound in the world, but in this stranger-­than-fiction story, there are ardent supporters for all of the claims listed above, and many more.
According to the Ohio Historical Society, the organization that manages the site in rural in southern Ohio, the mound is over 1,300 feet long, and clearly resembles an uncoiling serpent. Their website says the original purpose of the mound is unknown but was probably built by people from the Fort Ancient culture who lived in the area from 1000 to 1500 A.D. Bradley Lepper, archaeologist for the society, reports that the head of Serpent Mound appears to align with the rising sun during the summer solstice, and since the nearby Newark Earthworks have detailed astronomical alignments built into them, it is reasonable to assume that Serpent Mound does as well. Generations of researchers agree with that theory, but the intent of those who built the serpent remains a mystery. Lepper posits that Serpent Mound may have been a shrine to a spiritual power.