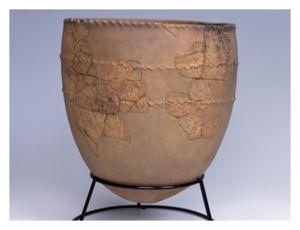 Humans were using cookware as early as 15,000 years ago, according to a new analysis of ancient Japanese ceramic pots. Those first meals? Fish soup.
Roasted fish on a stick is OK, but wouldn't it be nice to be able to cook up some fish soup?
That's what might have crossed the minds of hunter-gatherers who made the world's first cooking pots. A new analysis of pottery made 15,000 years ago in what's now Japan reveals that it was used to cook seafood, probably salmon.
Not so long ago, scientists thought hunter-gathers were too busy roaming and foraging to invent cookware. But more recent archeological discoveries in China and Japan suggest that people were making ceramic containers as early as 20,000 years ago, long before the advent of farming.
What were they cooking? Speculation first centered on nuts and plants. But this new
study
, published online in the journal
Nature
, says it was fish soup.
To find out, a multinational team analyzed the residue on pot shards found in 13 places in what's now Japan. They were made 15,000 to 11,000 years ago.