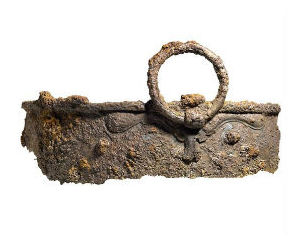 Remnants of an Iron-Age feast, including cattle skulls and 13 cauldrons, have been unearthed in Chiseldon, United Kingdom, according to a report in the latest
British Archaeology
.
The discovery marks the largest grouping of early cauldrons ever found in Europe. One cauldron features a handle plate in the form of a cow's head; zoomorphic decoration is otherwise unknown on a British cauldron.
"Analysis of the interiors of the cauldrons has even revealed traces of animal fats, a tantalizing suggestion that these objects might have been used in cooking and serving meat-rich stews at Iron-Age feasts over 2,000 ago," Julia Farley, curator of European Iron Age collections at the British Museum, told Discovery News.
Farley's colleague Jody Joy, as well as Alexandra Baldwin and Jamie Hood from the museum, are still studying the artifacts, which were found buried in a 6.6-feet-wide pit. The cauldrons were made from iron and copper alloy in the second or first century B.C.
Given that these cauldrons survived for over 2,000 years, it should come as no surprise that they were built to last.
Each was built to last, with an iron rim and band supporting circular suspension handles. The main body of the cauldrons consisted of a central band and bowl of sheet copper alloy riveted together. "The iron rim and handles gave strength and rigidity, while the copper-alloy bowl acted as an excellent heat conductor," the researchers note.