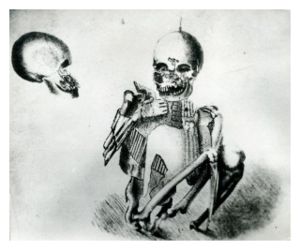 By now, it's a well-accepted fact that the Vikings beat Columbus to the New World (i.e. North America) by a couple hundred years. Settlements have been found in Newfoundland along the Eastern Canadian coast. But exactly how far south they traveled in North America is still a mystery. But could a buried warrior and a strange stone hold the key to the mystery, or is it just the tip of an archaeological iceberg?
Fall River, Massachusetts, is perhaps best known for the violent double homicide leading to the murder trial of Lizzie Borden, but 50 years before that crime, the town was made famous by another shocking headline. Near the present site of
New England Gas Company
where 5
th
Street meets Hartwell, workmen excavating a hill uncovered a skeleton in a shallow grave in 1831. According to a contemporary account published in 1839 for
American Monthly Magazine
, the skeleton was buried in a sitting position encased in coarse bark with its head one foot below ground level. It appears the young man had possibly been mummified either naturally or intentionally ("
The preservation of this body may be the result of some embalming process, and this hypothesis is strengthened by the fact that the skin has the appearance of having been tanned...
") and wrapped in a coarse cloth resembling burlap. He wore a large brass breastplate across his chest, and around his waist was
"...a belt composed of brass tubes, each four and a half inches in length and three-sixteenths of an inch in diameter... the length of the tube being the width of the belt. The tubes are of thin brass, cast upon hollow reeds, and were fastened together by pieces of sinew... The arrows are of brass, thin, flat, and triangular in shape, with a round hole cut through near the base. The shaft was fastened to the head by inserting the latter in an opening at the end of the wood, and then tying it with a sinew through the round hole, a mode of constructing the weapon never practiced by the Indians..."
There is some historical debate as to the last statement. Brass was not unfamiliar to native tribes who had been known to trade goods for brass kettles which they melted down for arrowheads and adornments in the 1600s. One brass tube was donated to Copenhagen's Peabody Museum in 1887; analysis revealed it was indeed brass. Without modern dating techniques, though, the age of the skeleton couldn't be determined. Some people insisted it was some lost Indian chief. Others suggested it was undoubtedly Phoenician and proved that some forgotten Mediterranean peoples had crossed the Atlantic and formed the mythical Atlantis "beyond the Pillars of Hercules" (or Rock of Gibraltar) as recorded by Plato. Others insisted it was just a hoax.