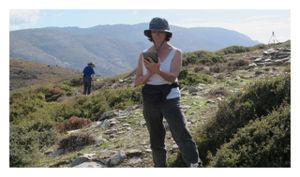 Before the first ancient Olympics, as Homer was writing his Iliad, there was a bustling early Iron Age city in Greece. And then it all but disappeared.
Australian archaeologists will try to solve the ancient mystery of why the city was abandoned and whether a lack of fresh water was the cause.
They're off to Zagora, a city that was thriving with farming and industry on the island of Andros in the 9th century BC before it was inexplicably abandoned.
That was about the time of Homer and before Sparta and the Athenian democracy.
Australia's first archaeological dig in Greece was at Zagora in the 1960s and 1970s and they managed to excavate about 10 per cent of the 6.5 hectare site but did not solve the riddle.
Now 50 Australians will begin working there again next week, hoping to finally explain why an entire population would leave a city at the heart of a major sea trading route. Some things haven't changed.
They'll have to hike in and out to the isolated site each day and use pack mules to carry heavy equipment. But some things are different.
Ground penetrating radar, satellite imaging analysis and multi-spectral treatment of those images might help, says one of the dig's co-directors, Lesley Beaumont from Sydney University's Department of Archaeology.