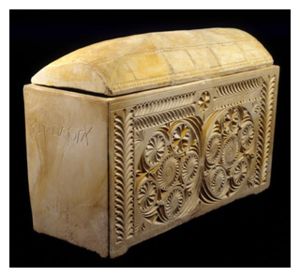 Were the final resting-places of the family and disciples of Jesus discovered 30 years ago and then hidden as part of a religious-political conspiracy?
The archaeological controversy swirling around two Roma-era burial tombs in Jerusalem refuses to die. Indeed, it has become something of an ugly academic slugfest.
In one corner stands the Israeli archaeological establishment represented by the Israel Antiquities Authority and Professor Amos Kloner of Bar-Ilan University, backed by various respected archaeologists and scholars. In the other stands Simcha Jacobovici, the filmmaker and self-styled "Naked Archaeologist," backed by another group of respected archaeologists and scholars.
In 1981, Prof Kloner led
an archaeological survey
of a 1st-century burial tomb in East Talpiot, Jerusalem, that was exposed during construction works in the area. Prof Kloner was able to spend only a few minutes inside the tomb before he was chased away by a group of ultra-orthodox Jews who objected to the disturbance of what they suspected were Jewish graves. A number of stone burial boxes or ossuaries were left inside the tomb and it was resealed, eventually hidden under the patio of a newly-built apartment.
The tomb briefly inspected by Kloner was very close to another tomb from the same era that been exposed during construction work a year earlier. That tomb contained 10 ossuaries, of which nine are in the IAA store rooms including ones with inscriptions identifying them as containing the bones of "Yehoshua bar Yoseph", "Miriam", and "Yehuda bar Yeshua (Jesus)".