Indigenous hunter-gatherers and immigrant farmers lived side-by-side for more than 2,000 years in Central Europe, before the hunter-gatherer communities died out or adopted the agricultural lifestyle. The results come from a study undertaken by the Institute of Anthropology at Johannes Gutenberg University Mainz (JGU) that has just been published in the journal Science.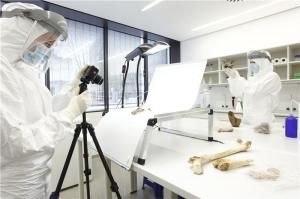 A team led by Mainz anthropologist Professor Joachim Burger studied bones from the 'Blätterhöhle' cave near Hagen in Germany, where both hunter-gatherers and farmers were buried. "It is commonly assumed that the Central European hunter-gatherers disappeared soon after the arrival of farmers," said Dr. Ruth Bollongino, lead author of the study. "But our study shows that the descendants of Mesolithic Europeans maintained their hunter-gatherer way of life and lived in parallel with the immigrant farmers, for at least 2,000 years. The hunter-gathering lifestyle thus only died out in Central Europe around 5,000 years ago, much later than previously thought."
Until around 7,500 years ago all central Europeans were hunter-gatherers. They were the descendants of the first anatomically modern humans to arrive in Europe, around 45,000 years ago, who survived the last Ice Age and the warming that started around 10,000 years ago. But previous genetic studies by Professor Burger's group indicated that agriculture and a sedentary lifestyle were brought to Central Europe around 7,500 years ago by immigrant farmers. From that time on, little trace of hunter-gathering can be seen in the archaeological record, and it was widely assumed that the hunter-gatherers died out or were absorbed into the farming populations.