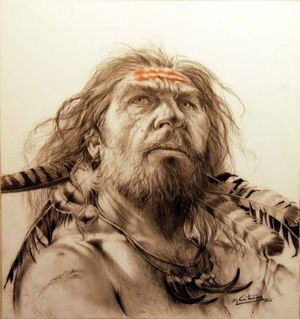 Neanderthals went extinct in Europe about 40,000 years ago, giving them millennia to coexist with modern humans culturally and sexually, new findings suggest.
This research also suggests that modern humans did not cause Neanderthals to rapidly go extinct, as some researchers have previously suggested, scientists added.
Neanderthals
are the closest extinct relatives of modern humans, and lived in Europe and Asia. Recent findings suggest that Neanderthals were closely related enough to
interbreed with ancestors of modern humans
- about
1.5 to 2.1 percent of the DNA
of anyone outside Africa is Neanderthal in origin.
It has long been uncertain when Neanderthals went extinct, and there has been much debate over whether interactions with modern humans might have driven their disappearance. Neanderthals entered Europe before modern humans did, and prior studies had suggested the last of the Neanderthals held out there on the Iberian Peninsula until about 35,000 years ago, potentially sharing the region with modern humans for millennia. However, more recent findings suggested that some
Neanderthal fossils from Europe might be thousands of years older
than previously thought, raising the possibility that Neanderthals went extinct before modern humans arrived in Europe starting about 42,000 years ago.