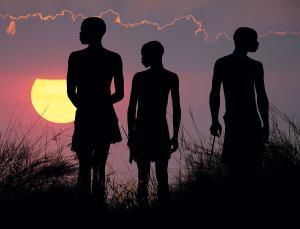 A man who died in 315 BC in southern Africa is the closest relative yet known to humanity's common female ancestor - mitochondrial Eve
He died later than Socrates and Aristotle, but a man who fished along the coast of southern Africa is the closest genetic match for our common female ancestor yet found.
If you trace back the DNA in the maternally inherited mitochondria within our cells, all humans have a theoretical common ancestor. This woman, known as "mitochondrial Eve", lived between 100,000 and 200,000 years ago in southern Africa. She was not the first human, but every other female lineage eventually had no female offspring, failing to pass on their mitochondrial DNA. As a result, all humans today can trace their mitochondrial DNA back to her.
Within her DNA, and that of her peers, existed almost all the genetic variation we see in contemporary humans. Since Eve's time, different populations of humans have drifted apart genetically, forming the distinct ethnic groups we see today.