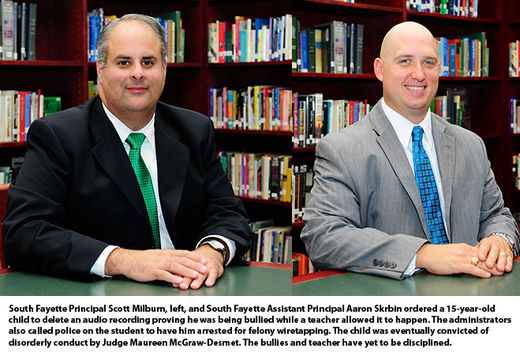 A high school sophomore in Pennsylvania who had been bullied all year by classmates with no help from his teacher decided to audio record the bullying on his iPad as evidence.
But instead of disciplining the bullies, school officials called police on him, threatening to have him arrested for felony wiretapping.
By the time the cops arrived at
South Fayette High School
in McDonald, school administrators had already forced the 15-year-old boy to delete the audio clip.
So police charged him with disorderly conduct instead,
a charge he was convicted of last month.
Meanwhile, the bullies and the teacher who allowed the bullying - not to mention the administrators who intimidated him into deleting the audio - have yet to be disciplined.
Here's hoping karma catches up to all of them, including Judge Maureen McGraw-Desmet, who convicted the child because, she said, he went to the "extreme" of recording the bullying rather than "let the school handle it."