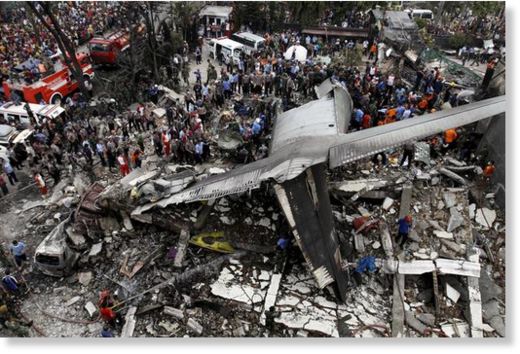 Listed below is the latest installment of global aircraft incidents, continuing on from these earlier compilations
here
,
here
and
here
. A total of 150 such reports have been compiled for the 30 days of June. Once again this tally does not claim to be comprehensive, as its very likely that many 'minor' accidents, especially away from the English-speaking world, will have been missed.
Sadly, (and as intimated in the last report that something like this might be on the cards) on the last day of the month another major accident involving an Indonesian aircraft (military) occurred and the combined death total from both the plane and on the ground currently stand at over 140 victims and is likely to increase.
June 1
Ultralight Pilot Crashes
in St. Andrews Bay, Florida
Pilot killed in small-plane crash
in Livermore, California:
The crash happened shortly after the pilot reported "control problems" after departing from Livermore Municipal Airport, said Ian Gregor, a spokesman for the Federal Aviation Administration. The aircraft crashed about three miles northeast of the airport.
'It is a miracle no-one was killed:'
Plane crashes onto packed Italian beach
as screaming families run for their lives