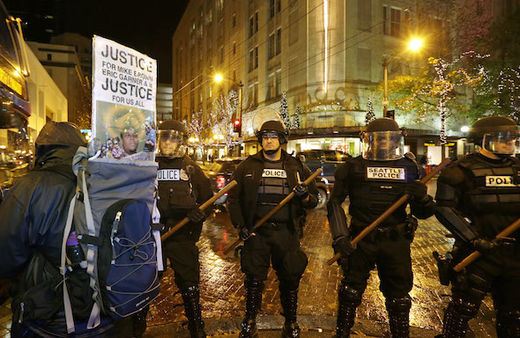 There is a pattern emerging in my Facebook feed this week. One group of friends has been posting stories of police brutality and protests accompanied by personal statements of outrage. Another group has been remarking on the disgusting revelations from the Senate Intelligence Committee's CIA torture report and the need for accountability. There is little overlap between the two groups, and yet the common threads between the U.S.' foreign and domestic policies are disturbingly uncanny.
Whether on the streets of Baghdad or Ferguson, soldiers and militarized police forces have historically enforced control, not law. Behind the prison walls of Guantanamo and Texas, some authorities have tortured and brutalized rather than interrogated. They have not protected nor served; they have attacked and killed. They have not gathered intelligence; they have violated people's humanity.
I am an immigrant to the United States. The names of those killed and tortured in Iraq and Afghanistan invoke in my imagination people who look like me, people I could have known, who could be my family. In the faces of those killed and tortured in Ferguson and Los Angeles, I see my neighbors and friends, people I know and love and think of as family. These are not separate and distinct. The pain I feel while reading the CIA
report
is as strong as the grief that comes from perusing the
images
of unarmed people of color who have been killed by U.S. police. The U.S. tortures and imprisons people of color both at home and abroad.