"The Constitution is not neutral. It was designed to take the government off the backs of the people." - Justice William O. Douglas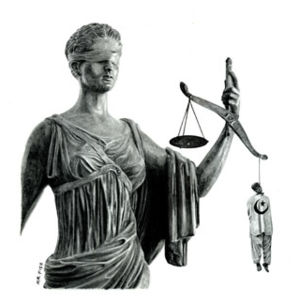 Justice in America makes less sense with each passing day.
A Michigan couple that has been raising chickens in their backyard as a source of healthy food for their family could get up to 90 days in jail for violating a local ban on backyard hens. A Kentucky prison guard who was charged with 25 counts of sexual abuse against female inmates, trafficking controlled substances, and 50 counts of official misconduct walks away with no jail time and seven years' probation.
A 53-year-old Virginia man is facing 20 years in jail for kidnapping, despite the fact that key evidence shows him to be innocent and his accuser a liar, yet the courts claim they're unable to do anything about it. Meanwhile, thanks to the U.S. Supreme Court's recent refusal to hear the case of
Jones v. U.S.,
judges can now punish individuals for crimes of which they may never have been convicted or even charged.
With every ruling handed down, it becomes more apparent that we live in an age of hollow justice, with government courts, largely lacking in vision and scope, rendering narrow rulings focused on the letter of the law. This is true at all levels of the judiciary, but especially so in the highest court of the land, the U.S. Supreme Court, which is seemingly more concerned with establishing order and protecting government agents than with upholding the rights enshrined in the Constitution.
Given the turbulence of our age, with its police overreach, military training drills on American soil, domestic surveillance, SWAT team raids, asset forfeiture, wrongful convictions, and corporate corruption, the need for a guardian of the people's rights has never been greater.
Yet when presented with an opportunity to weigh in on these issues, what does our current Supreme Court usually do? It ducks. Prevaricates. Remains silent. Speaks to the narrowest possible concern. More often than not, it gives the government and its corporate sponsors the benefit of the doubt. Rarely do the concerns of the populace prevail.
In this way, preoccupied with their personal politics, cocooned in a priggish world of privilege, partial to those with power, money and influence, and narrowly focused on a shrinking docket (the court accepts on average 80 cases out of 8,000 each year), the justices of the current Supreme Court rarely venture beyond their rarefied comfort zones.