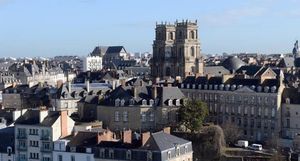 Three thousand people were evacuated from their homes in the centre of the French city of Rennes Sunday while a huge British bomb from World War II was defused.
The 250-kilogramme (550-pound)
bomb was found near the city's town hall during the building of a new metro line
in the capital of the Brittany region of western France, mayor Nathalie Appere told AFP.
She said it was packed with 70 kilos of high explosives and police bomb disposal experts faced a very "delicate operation" to disarm it.