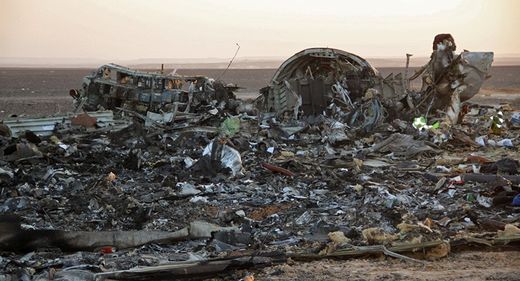 On October 31st, 2015, the Russian airplane of the Kogalymavia company disappeared over Sinai. The catastrophe killed about 224 people, almost all of them were Russian citizens. Without delay, the media announced that the most probable cause was a terrorist attack. The same day, an affiliated group of ISIS, Wilayat Sinai, took responsibility for the plane crash. This version of events had been denied by Russian authorities for two weeks.
The main argument was that the investigation was incomplete, and therefore that it was too early to announce the causes of the incident.
The fact that Dmitry Peskov, the press spokesman for the President of Russia, as well as other minor politicians, were charged with the task, while Putin kept silent on the causes of the event, added even more fuel in the fire. It is significant that the president himself (excluding written statements prepared by the Office) offered his condolences to the relatives of victims only on the third day after the explosion. There was a feeling that the Russian authorities clearly knew much more than they were able to say.
On November 6th, at the request of Alexander Bortnikov, the Director of the FSB, the President of Russia banned all flights to Egypt. During this time, the preliminary decoding results of the black boxes must be obtained, and the investigation of the wreckage must be performed. The decision is indirect evidence that the Russian authorities knew that the terrorist attack theory was the most likely one. But it would take almost two weeks for them to officially recognize it.
So, after the monstrous terrorist attack in Paris, and following the G20 summit on November 17th, the FSB officially recognized the cause of the crash as a terrorist attack
. The Russian President promised to punish all involved parties, wherever they may be. Russia increased its bombing of terrorists in Syria using air force bombers and the Navy. What was the reason for such a long period of silence from Russia on the real cause of the crash? The subject demands more information.