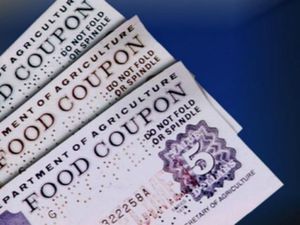 President Barack Obama and vulnerable Democrats facing tough midterm elections in 71 days are scrambling to prop up the moribund U.S. economy in the minds of disgruntled voters. However, one of the quickest shorthand economic measurements--food stamp enrollments--paints a startling portrait of the "new normal" in the Obama economy.
According to the Department of Agriculture's most recently released
data
, the number of individuals enrolled in the food stamp program (known officially as the Supplemental Nutrition Assistance Program, or SNAP) has remained
above 45 million every single month for three years straight
.
In May 2011, 45,410,683 individuals received food stamps. As of May 2014 (the most recent date for which data are available), 46,225,054 people were on food stamps. At no point between the two dates did the number of food stamp enrollments ever fall below the 45 million mark.

Comment: From the report Profits from Poverty: How Food Stamps Benefit Corporations:

"The Supplemental Nutrition Assistance Program (SNAP) is an unusual entity in that, even though it was designed as a human welfare program, it exists administratively as a part of and is run by the Department of Agriculture. Recall that the program was originally conceived as a way to maintain high agricultural commodity prices."