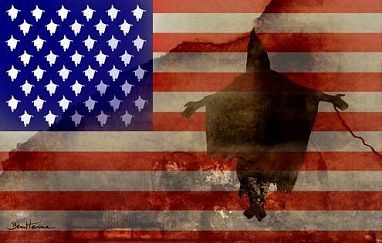 With the release of the Senate Intelligence Committee's report on torture, it becomes clear that in the aftermath of the loathsome terrorist attack of 9/11, the United States entered into a new and barbarous stage in its history, one in which acts of violence and moral depravity were not only embraced but celebrated. Certainly, this is not to suggest that the United States had not engaged in criminal and lawless acts historically or committed acts of brutality that would rightly be labeled acts of torture. That much about our history is clear and includes not only the support and participation in acts of indiscriminate violence and torture practiced through and with the right-wing Latin American dictatorships in Argentina, Chile, Uruguay, Paraguay, Bolivia and Brazil in the 1970s but also through the wilful murder and torture of civilians in Vietnam, Iraq, and later at Guantánamo, Abu Ghraib, and Afghanistan. The United States is no stranger to torture nor is it a free of complicity in aiding other countries notorious for their abuses of human rights. Noam Chomsky and Edward Herman reminded us by taking us as far back as 1979 that of the "35 countries using torture on an administrative basis in the late 1970s, 26 were clients of the United States."[1]
In fact, the United States has a long record of inflicting torture on others, both at home and abroad, although it has never admitted to such acts. Instead, the official response has been to deny this history or do everything to hide such monstrous acts from public view through government censorship, appealing to the state secrecy principle, or deploying a language that buried narratives of extraordinary cruelty in harmless sounding euphemisms. For example, the benign sounding CIA "Phoenix Program" in South Vietnam resulted in the deaths of over 21,000 Vietnamese. As Carl Boggs argues, the acts of U.S. barbarism in Vietnam appeared both unrestrained and never ending, with routinized brutality such as throwing people out of planes labeled as "flying lessons" or "half a helicopter ride,"[2] while tying a field telephone wire around a man's testicles and ringing it up was a practice called "the Bell Telephone Hour."[3]
Officially sanctioned torture was never discussed as a legitimate concern; but, as indicated by a few well-documented accounts, it seems to be as American as apple pie.[4]