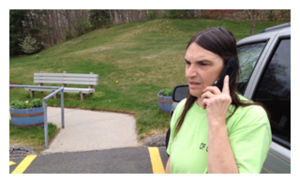 The town's animal control officer is worried after a severed cat's head was found Saturday on Rolling Hills Road.
This is the second severed cat's head found in Oxford, according to Sandy Merry, the Oxford Animal Control Officer.
The first head was found on nearby Moose Hill Road some seven to eight months ago.
The first discovery raised little concern since coyotes are so common in Oxford, Merry said.
The second discovery Saturday is troublesome, Merry said. She thinks the severed head was purposefully placed on the road by a human.
"Someone is clean-cutting off cats' heads and putting them in the street," Merry said.
A veterinary technician who lives in the neighborhood spotted the severed head on the road at about 6 p.m.
She did not want to give the Valley Indy her name because she believes a crime took place and she fears reprisal.
The woman said the head was placed upright in middle of the travel lane, facing oncoming motorists heading down Rolling Hills Road toward Moose Hill Road.
"It was strategically placed in the middle of the road," the woman said.