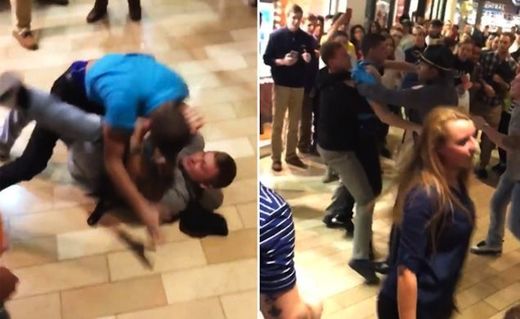 Just as we started regaining faith in humanity, after last year's Black Friday idiocy, here it comes again.
Before their Thanksgiving dinners could settle, many Americans left their family atmospheres and descended upon department stores and big box retailers across the country to partake in rampant and apparently violent consumerism.
Mindless shoppers aren't even getting the great discounts they cherish since retailers artificially inflate prices of goods in the months before the sales in order to make the subsequent discounts look good in comparison. Also, even if shoppers do manage to grab some genuine discounts, they will invariably buy another product that has a 98 percent markup value.
If we take a step back to observe this downright insanity, it is getting difficult to differentiate between Frank Darabont's
Walking Dead
and Black Friday shoppers. As the shopping began late Thursday night, so did the disgusting display savagery and greed.
The first video to surface shows a grown woman attacking a child. As mindless zombie customers tumble over shopping displays to grab as many rice cookers as the can, one woman becomes angry at another woman who is carrying three rice cookers.
The woman then charges her child and yanks one of the three rice cookers this child's mother apparently needed from the toddler.
When the mom becomes angry, she screams, "Why are you being so oppressive?! You're scaring me!"
For a rice cooker.....