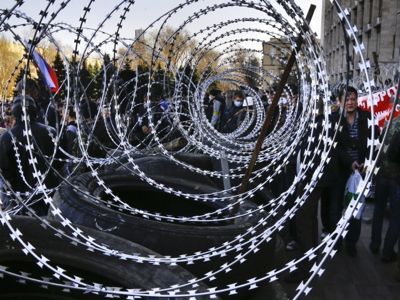 The situation of human rights in Ukraine has deteriorated markedly since the pro-NATO coup. While the Western media turn a blind eye to this every day reality,
Oriental Review
highlights thirty particularly significant incidents, revealing that the street is in the hands of Nazi thugs who beat up and kill people with complete impunity.
The flywheel of political repressions in Ukraine is gaining momentum these days. In sharp contrast with the liberal approach by president Yanukovych to the "Euromaidan" rout, the interim Kievan administration did not hesitate much about cracking down the public uprising against the "neo-Nazi regime" on the rise in the East and South of Ukraine. Today only in Kharkov at least 70 activists have been arrested during the so-called "anti-terrorist operation" [
1
]. According to the reports, foreign mercenaries presumably from the US Greystone Ltd private military contractor firm were participating in the operation along with the National Guard (majorly consisting of the ultranationalist Pravy (Right) Sector fighters) and some loyal Interior Ministry units.