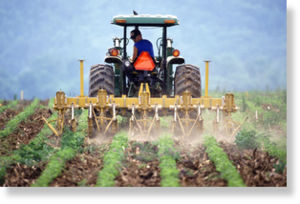 Intense over-farming means there are only 100 harvests left in the soil of the UK's countryside, a study has found.
With a growing population and the declining standard of British farmland, scientists warned that we are on course for an "agricultural crisis" unless dramatic action is taken.
Despite the traditional perception that there is a green and pleasant land outside the grey, barren landscape of our cities, researchers from the University of Sheffield found that on average urban plots of soil were richer in nutrients than many farms.
Sampling local parks, allotments and gardens in urban areas, Dr Jill Edmondson showed that the ground was significantly healthier than that of arable fields. Allotment soil had 32% more organic carbon, 36% higher carbon to nitrogen ratios, 25% higher nitrogen and was significantly less compacted.