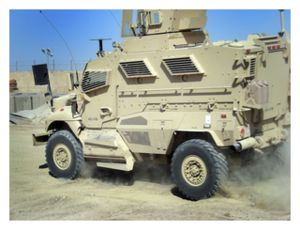 Many of our nation's sheriffs have been brainwashed that America is a
"war zone"
so all of our police departments (even for towns of less than 4,000 people) apparently
need
mine-resistant, ambush-protected vehicles - which basically look like tanks - straight off the battlefields of Afghanistan.
Though the vehicles cost nearly $750,000,
many police departments across the nation have acquired their very own MRAP tanks for pennies on the dollar (and sometimes free) from the Pentagon's controversial surplus program that seeks to dump military equipment into America's neighborhoods.
Now the indoctrination inside our classrooms can compete with the indoctrination on the school's front lawn
that America is such a police state war zone, it's totally normal for a school district to also require a tank.
School districts. Are getting. Tanks.