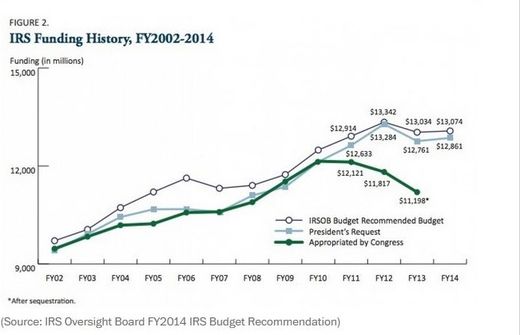 Five consecutive years of budget cuts have left the Internal Revenue Service with 18,000 fewer employees, many of whom feel besieged this filing season by angry taxpayers waiting in long queues for help that is often inadequate, the National Treasury Employees Union said on Monday.
IRS employees at taxpayer assistance centers tell union officials they "get yelled at, have papers thrown at [them], and are spoken down to [because] the demand is too high for the resources available," National President Colleen Kelley told reporters in a conference call.
According to Kelley, a front line worker in Pittsburgh said fewer than 40 percent of calls are answered.
"That's a horrible percentage, and it certainly does not instill confidence in the federal government," the employee told union officials.
Staff at a Van Nuys, Calif., taxpayer assistance center said taxpayers are frustrated from standing in line and are "sore from sitting, hungry because there's no food, thirsty because our water fountain is disgusting, and usually end up with parking tickets," Kelley said.
Another IRS customer service representative heard callers crying on the phone after being placed in a queue or subjected to a "courtesy disconnect" and told to call back later, she said,
noting a 26 percent cut in phone center staff over the past five years.
Phone equipment is "antiquated" and taxpayers with questions that in the past would have been handled by a subject-matter specialist are being referred to the IRS website, she said.