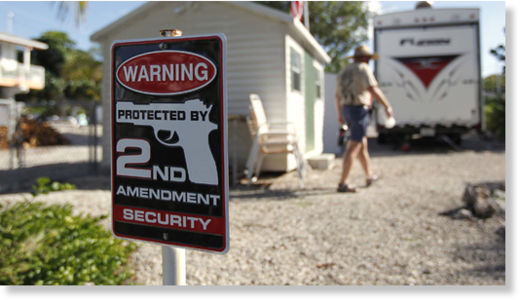 Hurricanes, toxic events, riots, and other emergencies in Florida could soon be enough to allow residents to circumvent the state's gun laws and carry a weapon without a permit if a bill passed Friday is signed into law.
The bill would allow any Floridian without a criminal record to flaunt an assault weapon or pistol with a high-capacity magazine during a state of evacuation. Known as HB 209, the legislation passed in the state house by a 80-36 margin with support from the National Rifle Association. Six Democrats voted for the bill, ignoring Pinellas County Sheriff Bob Gualtieri's objection that the bill was too vague.
"To allow people to go into a riot while concealing a gun without a permit is the definition of insanity," he told the
Miami Herald
. "The bill is crazy, it's absurd."
Among Gualtieri's issues with the bill is the lack of clarity regarding how long, or over what geographic area, a firearm owner may qualify to conceal a weapon in an evacuation. Also, the bill permits those who are "in lawful possession" of guns to carry weapons. What exactly that means is unclear, with columnists speculating if the law would allow the adult children of gun owners to carry guns.