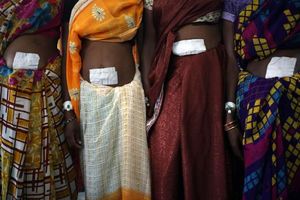 Tablets linked to the deaths of more than a dozen women who visited a sterilization camp in India are
likely to have contained a chemical compound commonly used in rat poison
, two senior officials in Chhattisgarh state said on Saturday.
Preliminary tests of the antibiotic ciprocin tablets were found to contain zinc phosphide, Siddhartha Pardeshi, the chief administrator for the Bilaspur district, told Reuters.
The antibiotics were handed out at the mass sterilization held a week ago in the impoverished state. At least 15 women have died, most of whom had attended the camp.
Authorities tested the tablets after being informed that zinc phosphide was found at the nearby factory of Mahawar Pharmaceuticals
,
the firm at the center of investigations into the deaths at a government-run family planning camp
, Pardeshi and Chhattisgarh health minister Amar Agarwal said.
Samples of the drugs have now been sent to laboratories in Delhi and Kolkata to verify that the tablets were contaminated as the preliminary report suggested, Pardeshi said.