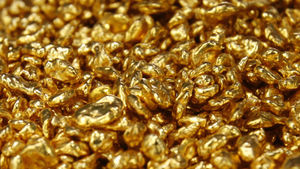 Much of California is enduring extreme drought conditions that have left farmers hoping for any rain to water their crops. Prospectors say there's an upside to the harsh conditions, though, with the depleted conditions exposing previously invisible gold.
Gold was first discovered in California during the latter half of the 1840s, with hundreds of thousands of Americans making their way west from the congested east coast hoping to strike it rich. The gold-seekers - also known as 49ers, prospectors, and by a variety of other names - found so much of the metal that the total, while not known for sure, almost certainly is equivalent to tens of billions of dollars in today's currency.
Within a few short years the Gold Rush had become so saturated with prospectors that only a small fraction found enough wealth to justify their trip, never mind the fortune they sought. But now, 150 years later, the California drought that has left much of the state desperate for precipitation has inspired a number of people to try their luck again.
CBS' affiliate in Los Angeles reported that, as water in small creeks and streams throughout Southern California evaporates, more avenues for prospectors are becoming exposed. Gold is currently trading at $1,300 per troy ounce, which is enough of an incentive for families to spend their weekends sifting through the dirt.
"A lot of the time you would just see a husband. Now you're seeing the whole family," said Kevin Hoagland, a member of the Gold Prospectors Association of America. Many of the gold pieces he's found range in value from $5 to $200 apiece.
"While you may not make a fortune, it's a great way to spend time with the family," he said. "We can go back over some of the areas where old miners looked in the past and find gold that they missed."