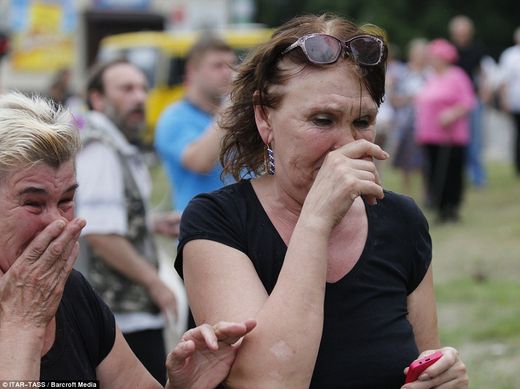 At least 20 civilians have been killed during fighting in eastern Ukraine today despite calls from the international community for a ceasefire.
Just hours after flight MH17 was shot down, the eastern city of
Lugansk was hit by shelling leaving hundreds of residents wounded
.
Pictures show bodies lining the streets covered in blankets in the wake of the attack which was reportedly carried out by Ukrainian forces.
Vladimir Putin has called for both sides to lay down their weapons
after the Malaysian Airlines plane carrying 298 passengers was hit by a surface-to-air missile yesterday, but the request seemed to fall on deaf ears.
The UN and their international leaders including German Chancellor Angela Merkel also called for an end to the fighting so an investigation into yesterday's events can take place.
Fighting is also said to have carried on to the north of the city, in the village of Metallist, 10km from Lugansk, and in the west, in Yubileynoye settlement.
It also emerged that the The Lisichansk Oil Refinery has also been attacked and set on fire.